GoSafe has said up to 78% of speed camera monitoring sessions are operational today despite industrial action by some workers.
A number of van operators, who are members of SIPTU, are staging a 72-hour strike in a dispute over union recognition and working conditions.
The work stoppage began at 9am this morning and will continue until 9am on Tuesday morning.
SIPTU has accused GoSafe of refusing to negotiate with the union on behalf of members.
SIPTU organiser Brendan Carr said: "Our members want the management of GoSafe to adhere to a Labour Court recommendation stating that the company should recognise SIPTU as the representative of its employees who are members and negotiate with their union to resolve their legitimate concerns about conditions."
GoSafe has said it already negotiates with an existing staff representative body, which has been in place for a number of years.
The company said it had written to SIPTU proposing to accommodate the union within the current framework, but it said SIPTU had rejected the offer.
GoSafe, which provides the roadside vans under a State contract, said speed cameras will continue to be operational over the full weekend.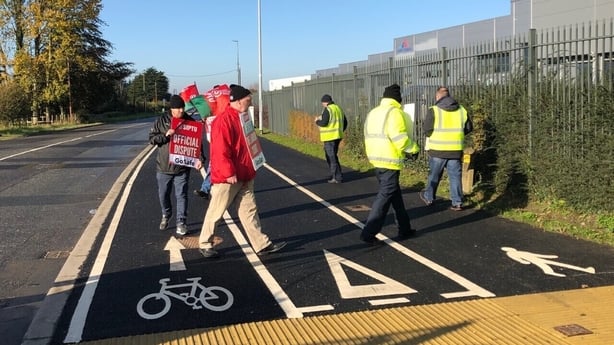 A spokesperson for the company said it "moved early to ensure disruption caused by SIPTU's action will be minimised".
"In addition to the enhanced enforcement presence, up to 78% of safety camera monitoring sessions are operational, ensuring cover is in place for the full weekend, " the spokesperson added.
Gardaí have said there will be no shortfall in the monitoring of speed limits this weekend.
A spokesperson said: "Additional garda resources will be made available in the areas affected."
SIPTU has called for Minister for Justice Charlie Flanagan to intervene in the row.
The union has said if there is no progress in the dispute, its members will consider escalating the action up to an indefinite strike.