A total of 320 jobs are to go at Novartis in Co Cork as it closes one of its production buildings by mid-2022.
There will also be a relocation of a number of global services roles located at Ringaskiddy by the end of 2021 to operations centres in Europe and Asia.
Novartis is one of the world's top ten pharmaceutical manufacturers and, like many others in the top ten, it has a presence at Ringaskiddy.
That presence translates into 550 jobs at two facilities.
More than 300 people are employed in the manufacturing of active pharmaceutical ingredients, while the remainder are involved in business support, administration, production planning and testing.
Over the past three years, Novartis has been conducting a review of its 100 sites worldwide.
The company said: "This is a strategic decision and part of the ongoing evaluation of the Novartis manufacturing network around the world and transformation programmes."
It is understood that the 320 job losses will follow a period of consultation between local management and the workers.
The challenge will be to maximise the number of jobs that can be retained.
A separate global business services centre operated by Novartis at Booterstown in Co Dublin is not expected to be affected.
Yesterday in Co Clare, US multinational Molex confirmed plans to close its factory in Shannon, with the loss of 500 jobs.
Staff at #Novartis, #Ringaskiddy, in Co #Cork, arriving to be briefed at the plant this morning, where significant job losses are expected to be announced. @rtenews @morningireland pic.twitter.com/XItAeZwUTg

— Paschal Sheehy (@PaschalSheehy) October 23, 2019
Novartis Ringaskiddy Managing Director Shane Relihan said: "Today is a very difficult day for everyone associated with Novartis Ringaskiddy.
"With a proud reputation of making medicines for over 25 years, it is important to say that this decision is not a reflection of the performance of our dedicated colleagues who have worked hard to supply our customers and patients.
"While people absorb today's news, we want to reassure our colleagues and their families that there is no immediate impact, Novartis will work closely with our employees and representative groups to support everyone during this period ahead, providing severance packages and outplacement services.
"We will also work with our industry partners across the pharmaceutical industry cluster here in Cork to identify future employment opportunities in the area."
Tánaiste and Minister for Foreign Affairs Simon Coveney said: "This news is a significant blow and very difficult for the highly skilled workers of Novartis and their families.
"I have spoken to the Ministers for Business, Enterprise and Innovation, Heather Humphreys, as well as the IDA to ensure all available supports from state agencies are now open to the staff affected by this Novartis announcement.
"The staff are highly skilled in the competitive pharmaceutical industry and the state agencies will use the three-year timeline laid out by Novartis to work with the company and the workers to protect employment."
Fianna Fáil leader Micheál Martin said the Novartis job losses were "devastating for the region".
He added: "This is a very worrying time for the families and their loved ones. The job losses are particularly disappointing as Novartis in Cork was high end manufacturing.
"I hope all efforts are made by Government and the IDA to prevent as many job losses as possible, to relocate those that lose jobs and to seek an alternative company to invest. Extra efforts have to be made in the far more competitive environment globally."
Labour TD Seán Sherlock said the decision was a "hammer blow" for the Cork region.
The Minister of State for the Department of Enterprise and Innovation has said the job losses at Molex and Novartis have come as a shock and neither were expected.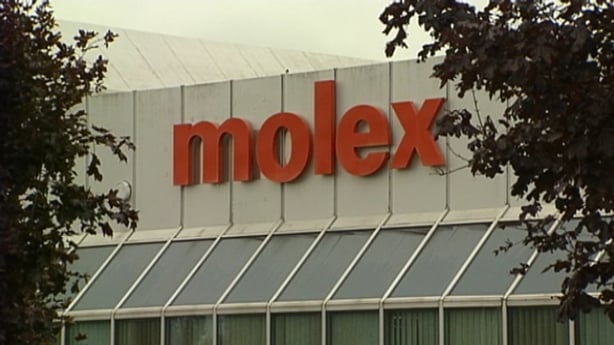 Pat Breen said it was "like a lightning shock to me on Monday night when I learned that Molex were to close".
The junior minister said that last year Molex was talking about expanding its operations.
Speaking on RTÉ's Morning Ireland, he said that there was a skilled taskforce in Molex and the efforts would be made to try to find alternative employment for them.
Mr Breen said there are 15 months to find alternative employment and a new occupier for the building in Shannon, adding that he believed there would be demand for the industrial space.
He said that his department, the IDA and Enterprise Ireland would work together to get another industry in there as soon as possible.
The Director of Public Affairs at Cork Chamber of Commerce said the job looses are are devastating.
Thomas McHugh said the pharma and med tech community in Cork is a tight one that is well connected and he believed they would colloberate to help Novartis employees find alternative work.
He said the signs are good but nothing will detract from the anxiety that Novartis employees are feeling, but the phased transition will give them time to find work elsewhere.