Experts are warning of possible shortages of Irish potatoes in the coming months due to extremely wet conditions.
Just 30% of the national potato crop has been harvested so far this year, with poor ground conditions making harvesting virtually impossible in some areas.
A leading expert in the national farm advisory service Teagasc has warned of "big big losses" if the current wet ground conditions do not improve.
Michael Hennessy, Head of Crops Knowledge Transfer, said the difficulties are affecting the consumer supply chain.
He said: "When potatoes come to maturity they don't like sitting in wet ground, if they are sitting in wet ground the potential is there for more rot.
"Modern potato harvesting sees potatoes being stored in big refrigeration units, perfect for when the consumer wants them, [but] the current conditions make that difficult."
In the northeast, where half of the national crop of potatoes is grown, the rainfall in August and September was twice the average.
The impact has been very significant with hundreds of acres of potatoes still in the ground.
We need your consent to load this rte-player contentWe use rte-player to manage extra content that can set cookies on your device and collect data about your activity. Please review their details and accept them to load the content.Manage Preferences
Thomas McKeown, who farms near Navan in Co Meath, said: "The problem is that any rain that falls after this is just going to make it worse, because the ground is at saturation point.
"The rivers are way up. The Boyne and the Blackwater are very, very high."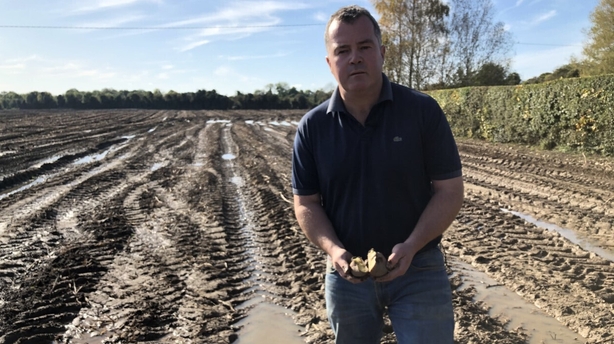 Mr McKeown, who farms potatoes and tillage, has harvested less than 10% of his potatoes due to the poor conditions.
He is also the chairperson of the potato committee of the IFA and said there was a concern that all of the national crop would not be harvested this year as a result of the wet weather. 
The problems do not stop there, as only 10-15% of winter crops have so far been planted.
Wet conditions are causing significant problems, with ground too wet to plough or prepare for seeding.
Winter crops, such as barley, are a valuable and profitable enterprise on many farms and any delay in planting them could impact farmers' incomes in 2020.
The big delay in planting crops means that a window of opportunity to get them in the ground may be lost and farmers might be left with no option but to use alternative, later and less profitable crops.
Mr Hennessy said: "Since the ploughing championships, when there was really fine weather, it started raining after that, and it hasn't stopped since.
"That is the very time when people are trying to get potatoes out, maize harvested and all the other crops into the ground. In some counties, planting is as low as 5%".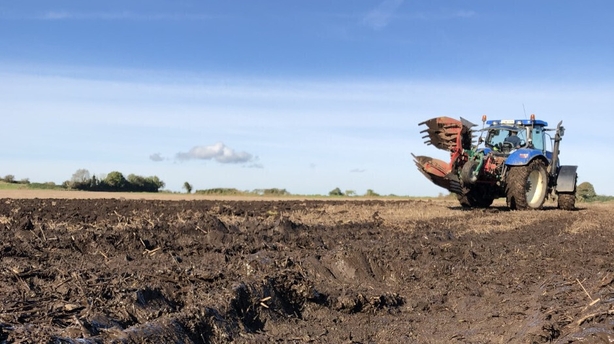 Tillage expert Siobhán Walsh, who works with farming website Agriland, said: "This is serious, only about 10-15% of the winter cereal average was sewn last week, and it hasn't progressed much further this week, because weather hasn't allowed it.
"Fields are waterlogged and farmers can't get into their fields. If farmers can't get the most profitable crops into the ground, the knock-on effect next year is a reduction in income."
Farmers are facing a hit to their incomes next year if they do not get crops in the ground and consumers could be looking at fewer Irish potatoes on the shelves next year.