Two men remain in custody following the fatal stabbing of a father-of-two in south Co Dublin in the early hours of this morning.
Derek Reddin, a 31-year-old with an address in Watson Drive, Killiney, died after a row broke out among a group of men at the junction in Loughlinstown.
Detectives are investigating if his murder is linked to an incident at a house party a few weeks ago.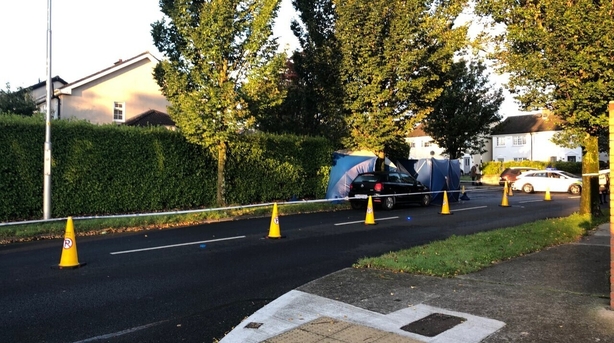 The victim is known to gardaí and has a number of previous convictions, but is not believed to have been involved in serious or organised crime.
It is understood that he was stabbed in the chest following a row at the junction of Loughlinstown Drive and Cherry Court shortly after midnight.
Members of the Armed Support Unit, local garda units and emergency services were at the scene, but the man was pronounced dead.
Two men in their 30s were arrested a short time later and are being detained at Shankill Garda Station.
They can be questioned for up to 24 hours.
Gardaí said they are following a definite line of inquiry and are not looking for anyone else at present.
They are now trying to establish a motive for the attack, but suspect the stabbing could have arisen from personal animosity.
A man who lives in the area where the stabbing took place spoke to RTÉ News about events that were captured on his home CCTV cameras.
The man said he and his wife heard shouting during the night and, "in the morning, when my wife was leaving for work, I saw the garda and tent in front of the house so I checked the cameras".
He said he saw men shouting and fighting on the road.
"It's mad ... you have a guy there alive and one minute later you have a guy there who's dead. It's shocking," he said.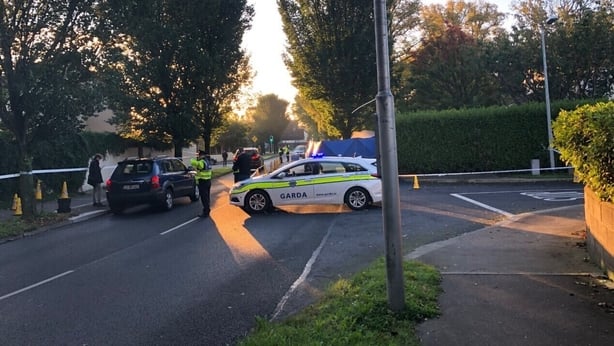 A woman who visited the scene this morning described the victim as "a good dad".
An online poetry group has also paid tribute to the victim. "Verses of Life" said on its Facebook page that Derek was one of their volunteers "turning up every week, helping no end."
The group said it was shocked by the murder of a father and son, and that he would be missed by the group and all who knew him.
The body of the man has been removed from the scene to Dublin City Morgue, where the Assistant State Pathologist Dr Bolster is due to carry out a post-mortem examination.
Anyone with information is asked to contact Shankill Garda Station 01-6665900 or the Garda Confidential Line 1800 666 111.