Thirteen organisations operating within the Irish aviation sector have signed a joint declaration, committing to tackling disruptive passenger behaviour on flights.
Disruptive passengers' incidents increased by a third in one year (2017-2018) and at least once a month the situation escalates to such a degree forcing the plane to perform an emergency landing.
The organisations that signed the agreement include Ryanair, Aer Lingus, the country's main airports and the Commission for Aviation Regulation.
They have pledged to promote:
A zero-tolerance approach to disruptive behaviour where safety is a risk
The identification, pre-emption, management and reporting of disruptive incidents
The responsible sale and consumption of alcohol
Ongoing education and communication with passengers to continue to raise awareness of the risks associated with disruptive behaviour
We need your consent to load this rte-player contentWe use rte-player to manage extra content that can set cookies on your device and collect data about your activity. Please review their details and accept them to load the content.Manage Preferences
The signing of the joint declaration took place as part of an industry forum organised and chaired by the Irish Aviation Authority, the industry safety regulator, as part of its "Not-on-my-Flight" campaign.
The campaign highlights examples of unruly behaviour on flights, and the consequences for passengers and crew. Unruly behaviour can include intoxication, aggressive or inappropriate behaviour as well as not following the commands of flight crew, who are there to protect passenger safety.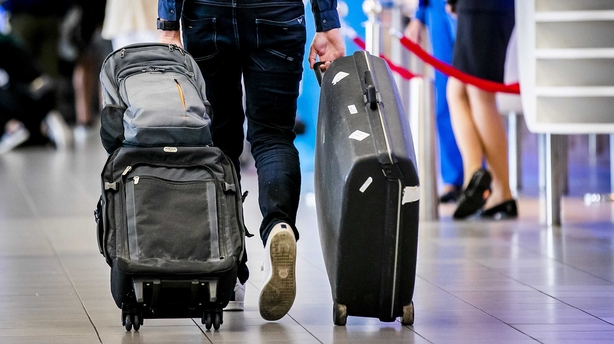 Speaking on RTÉ's Morning Ireland, Irish Aviation Authority's Head of Corporate Affairs said the campaign is just the first step to develop awareness of disruptive passenger behaviour.
Paul Brandon said passengers need to be aware that there will be consequences for bad behaviour up to and including arrest on arrival at a destination airport.
He said every incident is a serious one and flying should be a pleasurable experience for passengers.
The signing of the joint declaration comes as figures show there has been an increase in the number of disruptive passenger incidents on flights across Europe.
According to data published by the European Union Aviation Safety Agency (EASA), every three hours the safety of a flight within the EU is threatened by passengers demonstrating unruly or disruptive behaviour.
At least once a month the situation escalates to such a degree forcing the plane to perform an emergency landing.
Almost three quarters of aviation safety incidents across the EU (72%) involve some form of physical aggression.
Safety is compromised by unruly passengers on 1,000 flights in Europe per year due to assaults and alcohol related offenses.
The organisations who have signed the agreement are: Ryanair, Aer Lingus, Dublin Airport, Cork Airport, Shannon Airport, Ireland West Airport Knock, Donegal Airport, Kerry Airport, the Commission for Aviation Regulation, Stobart Air and SAS Ireland (Scandinavian Airlines Ireland Ltd.), CityJet and ASL.