The Government continues to fail to provide proper healthcare for transgender and non-binary people, a rally outside the Dáil heard today.
Transgender rights activists are holding a rally outside Leinster House to call for improved transgender healthcare.
The campaign, This Is Me, said it was calling out the Department of Health and the Health Service Executive for what it says is inaction and delay on introducing safe, accessible healthcare for all trans and non-binary people.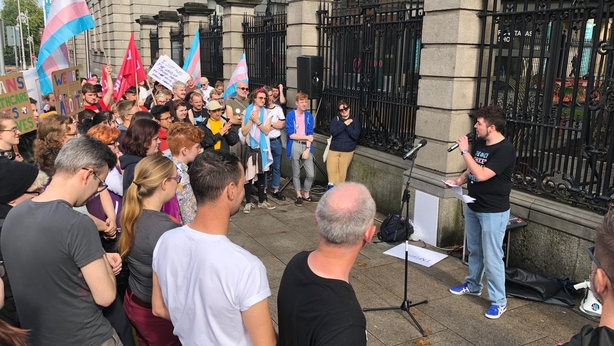 It says cover has regressed rather than improved, and people looking for surgery often face a two to three-year wait for treatment abroad, with no provision in Ireland.
It is four years since people who wish to have their change of gender recognised by the State were granted legal gender recognition in Ireland, following years of litigation by Dr Lydia Foy.
Since then, around a hundred people a year have availed of the right, but transgender campaigns say healthcare provision still lags behind.
Campaigners want improvements in mental health supports, reductions in waiting time for assessment, hormone therapy and surgery, and the provision of surgery in Ireland.
They also say that despite Government commitments, current practice is still a psychiatric model of healthcare, with long waiting times for compulsory psychiatric evaluations before people can access treatments such as hormone therapy.
They want that replaced with an effective informed consent model, marked, they say, "by trust, not doubt".
Responding to the protest, the HSE said it was "committed to improving transgender healthcare in Ireland".
It said it established the Gender Identity Steering Committee which is examining governance arrangements across the multiple agencies that currently deliver transgender care.
"In addition the HSE Quality and Improvement Division has worked with leading clinicians in transgender care in Ireland and representatives of the transgender community to develop an agreed model of care for the delivery of transgender services in Ireland," it added.