A new play promoting positive, active consent is to tour Irish universities.
'The Kinds of Sex You Might Have at College' is a product of the Active Consent programme at NUI Galway.
Programme organisers say the play aims to bring college-age audiences "through a range of sketches that dramatise sexual scenarios and viewpoints that you may encounter during college life.
"It is a play about what you want, how you want it, if you want it and what happens when you don't."
Research on sexual consent among third level students carried out by the NUIG team in 2018 found that 70% of the women studied, and over half of the men, reported experiencing some level of sexual hostility by the end of their third level educational experience.
The research also found that 70% of women, and over 60% of men, expressed dissatisfaction with the sex education they received at school.
"This groundbreaking theatre was created with young people for young people," said Dr Charlotte McIvor, lecturer in Drama and Theatre Studies.
"We hope it empowers audiences to critically examine their own attitudes about sexuality and the way they communicate with partners concerning consent.
"We approach the subject unflinchingly in our treatment of assault, harassment and rape, but also with humour and optimism.
"This is because we hope our audiences leave better informed and prepared to act in terms of calling out unacceptable behaviours and attitudes and pursuing more mutually pleasurable and consensual sexual practices if they want to."
The play features performances by recent graduates of NUI Galway.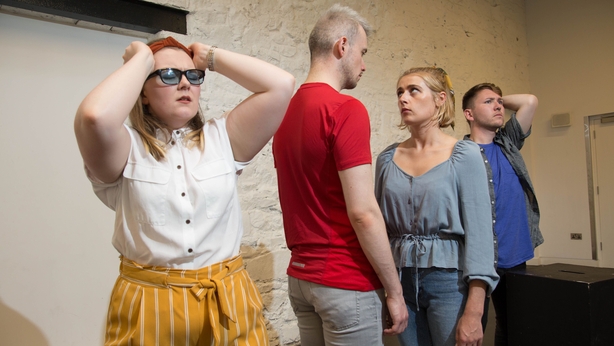 Actor Fiona Buckley said: "Men that I know would have absolutely no idea about encounters that women have to deal with.
"From my group of girlfriends most of us have a story, mostly negative.
"It affects all of us. It doesn't just affect that one person. It affects the friends, the family, the boyfriends.
"It's a trickle-down effect and that's why I think consent is really something that we need to be talking about."
Actor Gavin Friel said sex education needed to address issues such as consent.
"Sex is very much prevalent amongst young people but yet we don't have the resources to understand what is safe sex," he said.
"What is healthy sex? What is sex where you walk away without regret?"
There will be free performances of the play at NUIG on Thursday and Friday.
Other university performances are currently scheduled in Galway, Limerick, Dundalk and Dún Laoghaire.