A device which projects interactive light games onto a table is being used in Irish libraries to help people with dementia and autism.
The Tovertafel, which means "magic table" in English, is a Dutch innovation. 
The dlr LexIcon in Dún Laoghaire was the first Irish library to install one 12 months ago.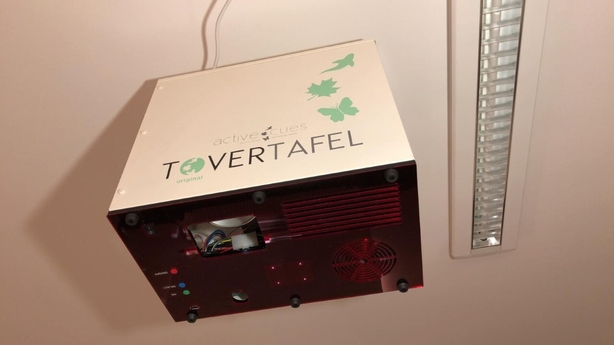 "The Tovertafel or 'magic table' is a box on the ceiling. It projects light animation onto a table surface and by interacting with your hands or any other tools, depending on mobility issues, the censors then interact with your movements creating the games," dlr LexIcon library assistant Erika Csibi said.
"Magic tables" consist of a series of interactive light games specially designed to help those with dementia to be more active socially, cognitively and physically. 
Games include turning caterpillars into butterflies, sweeping up leaves and a music box with interactive musical notes.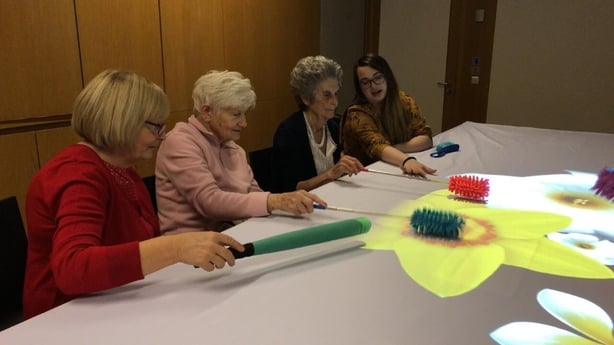 The Director of Nursing at Ashford House Nursing Home has been bringing residents to use the "magic table" at dlr LexIcon. 
"It definitely lifts their well-being. It's a great reminiscence tool especially the music box. They sing songs from their childhood. It gets all the memories going," said Ann Marie Mitchell. 
The "magic tables" have been funded as part of an €8 million investment for digital services and facilities in public libraries.
Minister for Rural and Community Development Michael Ring said: "At the Department of Rural and Community development we have responsibilities for libraries. The libraries are a hidden jewel. I want libraries to become community hubs particularly for people with dementia and also autism."
"Magic tables" also include games for people with autism which are described as being "more directly educational". 
The "magic table" at Trim Library was installed last March and includes games for children with autism.
" [The games] ignite conversation and enhance memory and chat. A lot of it is to do with chat. You might have someone using it who is non-verbal or who has a language barrier," said librarian Ciara McGurl. 
Claire Daly and her five-year-old son Jack who has autism and is non-verbal are regular users of the "magic table" at Trim Library. 
"His coordination would be brilliant with it and his focus and attention span. Sometimes if Jack wasn't interested in something, he loses his attention span quickly. But once he has an interest in it, he really enjoys and the train game is his favourite," said Ms Daly. 
Further investment in "magic tables" for public libraries is expected before the end of the year.