Another two meat processors have been granted injunctions to stop protests at their plants.
The applications were made by Kepak and Slaney Meats this afternoon.
The court heard today that another processor, Dawn Meats, will seek to have a protester jailed if he does not leave the picket lines.
Dawn Meats said one man named in its injunction against the protests launched what it called a "volley of verbal abuse" at its staff based at its plant at Grannagh, Co Waterford this morning.
The court heard that the man was a regular presence at the protest and Dawn Meats said that, on Friday, it would seek to being further action against the man. That action could lead to his arrest.
Mr Justice Senan Allen said there was no room for such behaviour and the injunctions are obvious to anybody with the slightest intelligence.
The Irish Farmers Association was in court to try and prevent orders being granted against protesters.
It has emerged this evening that several of the people named in the High Court injunctions are members of the IFA.
The protests are continuing at some factories which Chinese inspectors are to visit.
Negotiations are under way behind the scenes to allow some livestock in so that inspectors can visit the facilities.
We need your consent to load this rte-player contentWe use rte-player to manage extra content that can set cookies on your device and collect data about your activity. Please review their details and accept them to load the content.Manage Preferences
Nearly 60 protesters are blockading the Dawn Meats plant outside Waterford City and at the Liffey Meats plant in Ballinasloe, Galway. Workers jostled with protesters as efforts were made to allow trucks through the pickets.
There are also reports of scuffles at a protest outside ABP at Ferrybank in Waterford.
In Kildare, a delegation of Chinese inspectors was greeted by protesters as it arrived at the Kildare Chilling plant this morning.
Protesters held posters with slogans written in Chinese and shouted as the delegation drove into the facility.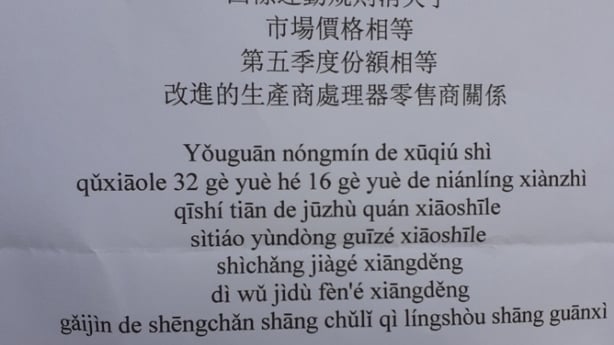 The High Court granted the injunction yesterday after an application was made by Dawn Meats and ABP.
The two companies said they had no alternative but to take the action to protect their businesses.
There was an overnight presence at Meadow Meats in Rathdowney, at Dawn Meats at Grannagh, Co Waterford, at ABP in Bandon, and at several other locations.
Minister for Agriculture Michael Creed described the pickets as counter-productive and said that none of the farmers' organisations support the protests this week.
Speaking in Cork, Mr Creed said his door has always been open to stakeholders in the beef factor.
Minister for Agriculture Michael Creed has described today's beef protests as "counter-productive" | https://t.co/XUYURRlUli pic.twitter.com/GoH28ggqzw

— RTÉ News (@rtenews) August 28, 2019
Meanwhile, Cormac Healy of Meat Industry Ireland, urged farmers that are continuing to protest to stop the illegal blockading of plants and allow work programmes discussed at the talks to be put in place after some progress was made.
Speaking on RTÉ's Morning Ireland he said: "The companies were left with no alternative but to seek legal protection through the courts for their businesses and try to restore normal processing activity in the plants affected.
"Effectively these blockades are putting thousands of Irish jobs at risk, they're also putting at risk our exports to existing customers and threatening our own ability to win new markets for Irish beef including markets like China.
"So in that context and the threat to everyone in the sector, the actions taken yesterday were inevitable because the only thing we can do now is try to get the sector back to normal processing activity."
Farmers said they view the injunction as little more than an attempt to clear protests during plant visits by officials from China.
Sixteen plants will be visited by Chinese inspectors and it is hoped the visits will lead to increased beef exports to Beijing.