Earlier this year, a furore erupted in north Dublin when the idea of a possible transfer of one of a number of Catholic primary schools in the Portmarnock-Malahide area to multi-denominational patronage was mooted.
Communications went out to parents from some of the schools warning of dire consequences.
The schools would no longer be able to celebrate St Patrick's Day they warned, or Christmas, or Shrove Tuesday.
Grandparent days would be a thing of the past, and greetings like 'Dia dhuit' and phrases like 'Buiochas le dia' (Thanks be to God) would be banned.
After the controversy was aired in national media, an embarrassed Dublin archdiocese put the whole process on hold. "Confusion and misinformation" had arisen in the public domain, it said.
As all this was playing out in Dublin, three small rural communities in Kerry and Roscommon were quietly getting on with it.
At Lecarrow National School in Roscommon, and Tahilla NS and Scoil an Ghleanna in Kerry, minds were concentrated by the threat of closure hanging over their schools.
Lecarrow and Tahilla have just eight pupils each. Scoil an Ghleanna has 14. Their tiny enrolment means their survival is very much at risk. Like the vast bulk of primary schools across the country they are all Catholic.
Complex and lengthy consultation and deliberations took place in all three communities, involving parents, the wider community, the Catholic Church, and the local State Education and Training Boards.
The communities voted. At Scoil an Ghleanna, in the end, 70% of the wider community voted to transfer the school from Catholic to multi-denominational patronage.
Local parish priest Fr Patsy Lynch led church engagement in the process.
In a check shirt and blue waistcoat and with a jaunty hat perched on his head, he looks nothing like the traditional image of a priest.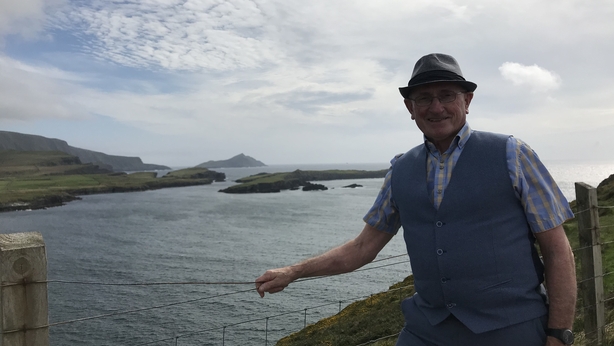 Fr Patsy spent 30 years as a missionary in Ghana. He is pragmatic and positive. "The road we are going down here in the Glen is the road that many other schools will follow," he told RTÉ News.
The mood among parents in the Glen - Catholic and non-Catholic seems one of delight and unity.
All of these three tiny schools now hope that their shift to multi-denominational patronage, under the Community National School model, will make their schools more attractive, and will entice more parents to enrol their children there.
And there is no doubt that many parents elsewhere will look with great interest at what these schools have just achieved, especially those who feel forced against their will to send their children to Catholic schools.
But what has happened raises a number of important questions.
Among them: does a school need to be teetering on the brink of closure before the step is taken to transfer to multi-denominational status?
The move by these schools will benefit only a tiny number of children.
The Catholic Church acknowledges the need to divest itself of a significant proportion of its primary schools in order to allow for the greater choice of patronage that the Ireland of today requires.
Real change will only be felt, however, when larger Catholic primary schools serving communities in places such as Portmarnock and Malahide make the move. But we saw what happened when an attempt was made there.
The process that has been established for so-called reconfiguration is so cumbersome that success seems contingent on a pressing need, such as that experienced by the three rural schools.
Seamus Conboy, newly appointed Director of Schools with Education and Training Boards Ireland, says that for pupils at these schools very little will change, but they will be more inclusive of the values and beliefs of all the children's families.
The main difference for Catholic children, he said, will be that preparation for the Catholic sacraments, such as Communion, will now take place outside of school.
When I ask Seamus Conboy whether children at the three new Community National Schools will still be allowed to say 'Dia dhuit' he burst out laughing. His answer is emphatic: "Of course!"