The Irish Blind Golf team will become the first in the world to take part in a European Tour competition playing alongside professionals.
Six members of the team are taking part in the Pro-Am event of the Challenge Tour's ISPS Handa World Invitational at Galgorm Castle Golf Club and Massereene Golf Club in Co Antrim.
Patrick Morgan and his guide (his father) Pat Morgan Snr, Ed Maguire and guide Tommy Geraghty, and Adrian Downey and his guide Michelle Hughes make up the team.
Tomorrow, they will take part in Beat the PRO, where they compete with a professional golfer.
By doing so, they will become the first blind golfers to compete against professionals in a top event.
There are 900 blind golfers around the world and around 18 members in Ireland.
Mr Maguire encouraged anyone interested to get in contact and take up the sport as "new members are the lifeblood of the organisation".
In blind golf, a guide places a player in the right position to take their swing and tells them what lies ahead.
The ISPS Handa World Invitation features a men's and women's field competing over the same courses, at the same time for equal prize money.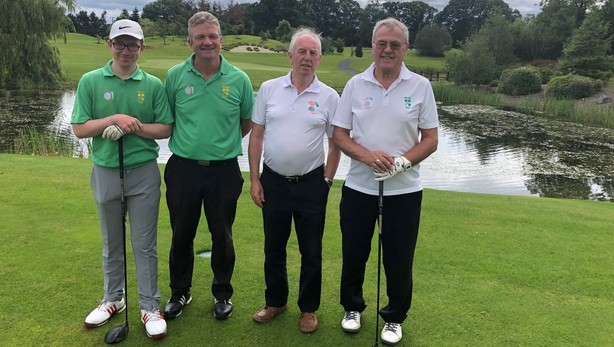 Among those also taking part in the today's Pro-Am event are singer Niall Horan, actor James Nesbitt and champion jockey AP McCoy.