The National Transport Authority has called for a better reporting system of racist incidents on public transport.
It comes as the authority launched its seventh annual anti-racism campaign.
There are no overall statistics on the incidence of racism against staff and passengers on public transport.
NTA Chief Executive Anne Graham said this was "something that needs to be addressed".
She was speaking as the authority launched its poster campaign with artwork consisting of an image made up of 900 selfies donated by commuters.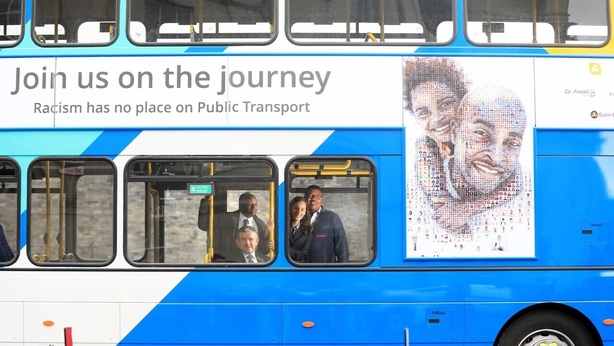 Immigrant Council of Ireland Chief Executive Brian Killoran said the lack of statistics and the underreporting of racial abuse and attacks was a "big problem".
Dublin Bus is the biggest public transport company with 3,500 staff, around 600 of whom are from ethnic minorities.
However, it did not have statistics on racist incidents. Neither did Go Ahead, the private bus operator that has taken over some commuter bus routes in Dublin.
Go Ahead driver Charles Nyagwaya says he had one incident this year that surprised him as it was a group of children.
He said schools days have a lot of mixed races in the classroom and this type of attitude must come from the home or the community.
The Luas operator Transdev recorded 29 racist incidents since January 2018.
Iarnród Éireann had 12 in the same time period, with three of the incidents occurring on the Northern Commuter/Enterprise lines, two on the DART and one each at Westport, Tralee, Sligo, Waterford and Limerick, with one case unspecified.
Bus Éireann had one single incident so far this year, consisting of racist verbal abuse.