Hosting a major golf tournament is not for the faint-hearted, but it seems JP McManus has had his eye on bringing the Ryder Cup back to Ireland for some time.
Already a venue for the Irish Open and his charity event the JP McManus Pro-Am, which attracts some of the biggest stars in golf, Adare Manor beat off tough competition to secure the prestigious biennial match for 2026.
Businessman Michael Smurfit congratulated Mr McManus on what he said is a "fabulous result for Ireland".
It is almost 13 years since the tournament was first staged in Ireland - at the K Club in Co Kildare - with Mr Smurfit at the helm. 
Speaking in Monaco, the 82-year-old said hosting the tournament is no easy feat and will probably be even harder than it was in 2006, mostly due to security requirements.
"I'm not sure JP knows what's coming down the pike", he quipped.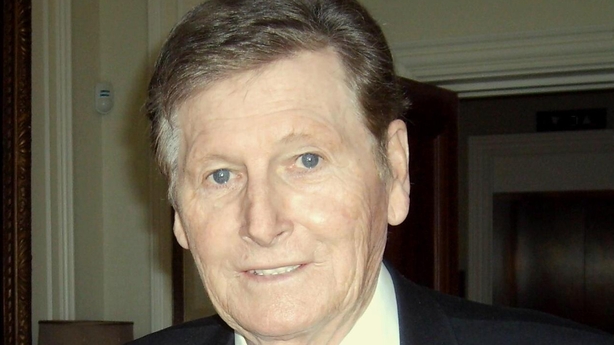 "No matter what you budget or plan for ... there's all sorts of different things that happen", including seriously inclement weather conditions.
"We had a hurricane in the middle of it", he recalled.
But nothing could dampen his pride and enthusiasm in hosting the tournament.
"I was so hyper I can't remember half of what went on", he said.
The path to Ryder Cup success
When building the K Club, dreams of hosting the Ryder Cup were very much in Mr Smurfit's eyes and it is a similar story for Adare Manor.
The Limerick hotel and golf course recently underwent a major refurbishment, making it Ryder Cup ready, according to CEO Colm Hannon.
With up to 60,000 spectators a day expected to attend the match, there were several areas behind greens where there was not enough space for grandstands or media boxes "so we sorted all of that out as part of our redevelopment", Mr Hannon said.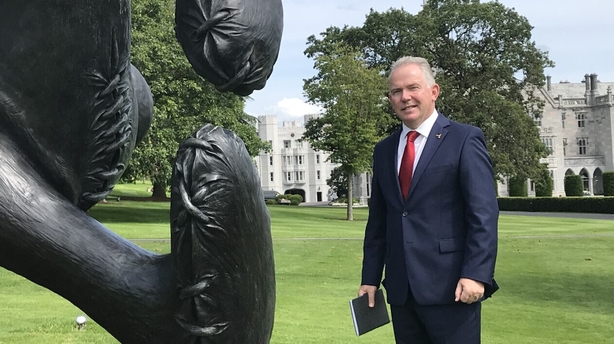 But for Ryder Cup 2026 to be remembered as a success story, the benefits will have to go far beyond Adare.
Chairman of Liveable Limerick John Moran said: "It's a deadline, in many ways, for us to do as much of the investment in infrastructure that we need to do anyway.
"We need to ask, how will people get to their hotels and Adare when they arrive in Shannon and Dublin airport?"
The Irish Tourism Industry Confederation said Ireland will require 11,000 new hotel beds over the next eight years. 
One project often spoken about in the context of the Ryder Cup is a bypass around Adare, which sees heavy volumes of traffic pass through the town.
However, the project has yet to receive planning approval. 
Minister for Transport, Tourism and Sport Shane Ross has acknowledged that many challenges lay ahead.
However, he said he is confident they can all be met by 2026, including a bypass.
"We obviously don't interfere in the planning process, but it's timetabled in for 2025", he said.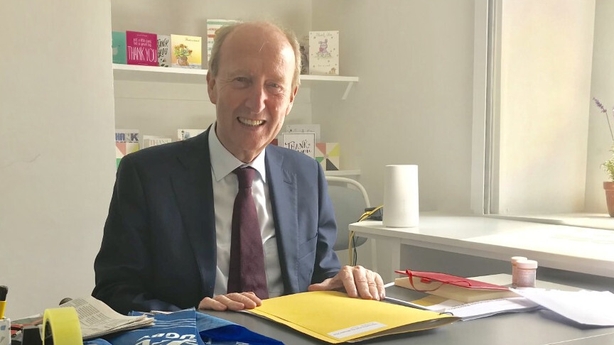 The minister said he cannot divulge exactly how much the Exchequer will fork out for the Ryder Cup event.
He said it could potentially be €50m, but cannot give a definite answer. 
When asked about Mr McManus's status as a tax exile, and whether the State should contribute to an event which will benefit Mr McManus personally, the minister said he is not privy to how much Mr McManus is spending on the Ryder Cup.
However, he said, the deal for Ireland is a very good one.
Hopes to see it all again
In Monaco, Mr Smurfit described where he was at in terms of preparations, seven years ahead of bringing the event to Kildare. 
"Once you receive the go ahead, you then go into the planning stages over a period of years. You then get to work out details with the gardaí, security is very important".
Asked if he will be attending in 2026, he said: "I just had a hip replacement that went wrong and I won't be walking very much I'm afraid from now on. Those days are behind me, unfortunately". 
Nevertheless, if a golf buggy is on offer at Adare, he'd be happy to accept it.
"I'll be asking for it, whether they'll give it to me is another matter. We'll see, what will be, will be". 
We need your consent to load this SoundCloud contentWe use SoundCloud to manage extra content that can set cookies on your device and collect data about your activity. Please review their details and accept them to load the content.Manage Preferences