The department responsible for looking after wildlife has admitted that seagulls, which are a protected species, are showing "behaviour of concern", including being a noise nuisance and stealing food from people eating outdoors.
RTÉ's Morning Ireland visited Balbriggan in north county Dublin and spoke to a number of residents who have issues with the birds.
Seagulls are protected under the EU Birds Directive because their numbers have been in decline.
But it is accepted by most experts that there has been a surge in numbers in coastal towns, such as Balbriggan, Howth and Skerries.
Under the legislation, it is illegal to remove nests and eggs of seagulls from roofs due to their protected status.
But in May 2017, the Department of Culture, Heritage and the Gaeltacht granted a special derogation for most of Balbriggan town after some residents formed a community group calling for action.
The group carried out extensive research and lobbied TDs and in May 2017 the special derogation was granted.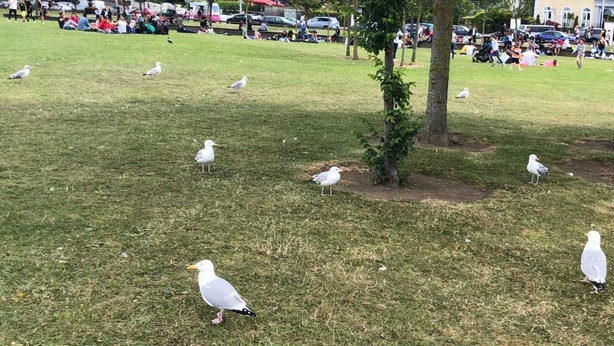 The community group is now calling for more action. One of its members, Tom Cardiff, said: "This is not 'you live by the sea you have seagulls'. This is where we have places where you have an infestation.
"The models across Europe are managed services provided by local authorities or municipal authorities, depending on what country you are in.
"In each case it is the authority that has a service responsibility for public health and safety which accepts that this is not civilised. This is a dangerous situation. It is getting out of hand."
Research in Australia has indicated that seagulls are carriers of drug-resistance antimicrobial resistance bacteria, which could stop antibiotics from working.
---
LISTEN BACK: @KieranDineen reports on the rise in complaints about noise and the aggressive behaviour of the birds https://t.co/OVuZjKxyd9

— Morning Ireland (@morningireland) July 30, 2019
---
Birdwatch Ireland is taking a legal case to the European Union, arguing that the derogation should not have been applied.
Dr Stephen Newton, senior seabird conservation officer at Birdwatch Ireland, said: "Numbers seem to be going up in the urban areas. But over the last 30 to 40 years there have been signs of a significant decline.
"Hence the herring gull has ended up on the red list of birds of conservation concern in the country. But there seems to be a big increase in the number of birds nesting in the towns.
"The gull is one of our biggest birds. And if they get annoyed and aggressive they can inflict a wound on somebody if they swoop down and hit them on the head.
"I have experienced it but I would say it is the minority of birds that come after people and take the law into their own hands and decide to snatch something out of a human hand or mouth."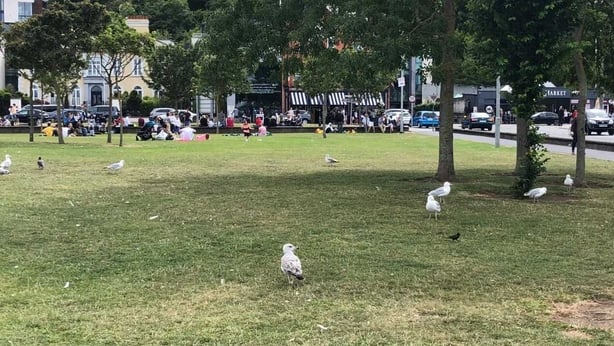 A number of residents in Balbriggan told RTÉ about their issues with seagulls.
Tom McCabe said: "A pensioner coming up the street with his little dog. They dived down, knocked him to the ground, skint the back of his head.
"A window cleaner the other day, (a seagull) came down and caught him on the top of the head.
"A pensioner around the corner here, her television went bad, they got the engineers out. It was aerial trouble. Just as he was about to start he was attacked by seagulls.
"Another woman around the corner, her little dog... they even tried to take the dog out of the back garden."
Marie Fanning said her late husband Michael built a pathway for their daughter Georgina, a wheelchair user who has cerebral palsy, to go around the garden. However, she claims she now cannot use it as the birds "might attack her".
Mechanic Glenn Campbell said: "I don't let my children out in the back garden unless I am there. These things will come down, land on the wall, and they'll swoop down and take something out of your child's hand. It's like a scene from Alfred Hitchcock's 'The Birds'. It's mad."
In a statement, the Department of Culture, Heritage and the Gaeltacht said: "All birds are subject to protection under the EU Birds Directive. As such, seagulls enjoy protection under this legislation.
"The population of herring gulls has greatly declined in Ireland (by about 90%) over the past 40 years, probably due to improvements in managing landfill sites, as well as other factors.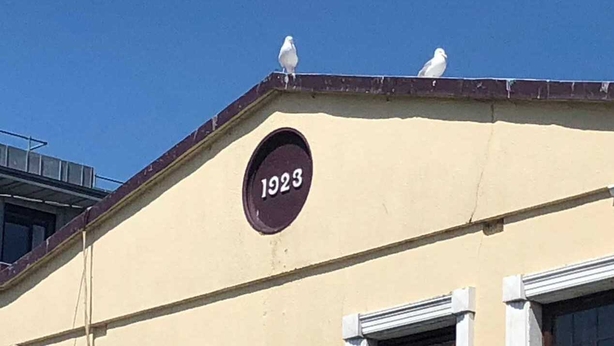 "Nonetheless there are substantial numbers in some coastal towns and cities, including north Dublin city and county.
"Herring gulls can be a nuisance because of noise, mainly in July and early August, and may steal food from people eating outdoors. In the latter case, the easy availability of food sources from litter or feeding by people may be contributing factors to the bird behaviour of concern.
"Ireland, like all EU member states, is bound by the requirements of the Birds Directive.
"The EU Birds Directive allows Member States to make derogations from its protective measures in respect of certain wild bird species in certain circumstances – for example, where they are causing damage to crops, livestock and fauna or represent a threat to public health or safety or to air safety.
"The declarations to implement these derogations are renewed annually and an annual review of the declarations is undertaken prior to their expiry.
"The 2017 review took into account the issue of seagulls in the north Dublin area, especially in Balbriggan, which had been the subject of correspondence to the department from some community groups and other residents which proposed the inclusion of seagull species in the declaration.
"Following consideration of the matter, the declaration, which was effective from 1 May 2017 to 30 April 2018, included methods to control seagull species in the Balbriggan area for public safety reasons.
"The control method involved the removal of eggs and nests only and the culling of seagulls was not permitted. Similar provision was made in the current declaration effective from 1 May 2019 to 30 April 2020."
The department said a "review of the derogation process" has been carried out which recommended that a consultative committee be formed, tasked with coming up with "a programme of action in relation to the seagull situation in certain urban areas".
Membership includes representatives of the National Parks and Wildlife Service of the department, Fingal County Council, the Balbriggan community group and Birdwatch Ireland.
The first meeting of the committee was held in June and the second meeting is due to take place next month.