Minister for Sport Shane Ross has accused the newly re-elected president of the Football Association of Ireland of reneging on an agreement that he would step down from the association's board.
Donal Conway was re-elected unopposed, with 134 votes in favour, five against, with one delegate abstaining at the FAI's AGM in Trim, Co Meath today.
Mr Conway reiterated his intention to step down after a year and said he wished to help the new board in its task of restoring confidence in the association.
However, Minister Ross said Mr Conway's re-election was 'disappointing'.
He said Mr Conway had promised back in April to step down from the board. 
It comes after Minister Ross invited officials from FIFA and UEAFA to a meeting in his department last night to reassure them that the Government has no desire to interfere with the independence of the FAI.
The officials were in Ireland to act as observers at today's FAI AGM.
Mr Ross said he briefed them on the various allegations of malpractice in the FAI and the inquiries that are underway.
He said that he told them that while the Government does not want to interfere, it does have a duty to make sure there is good governance where public money is spent.
Asked about how Mr Conway's election might affect public funding to the FAI, Minister Ross said that funding had been suspended, and while the Government wants to restore it, there must be a new reformed association with good governance established.
Minister for Sport Shane Ross says the re-election of Donal Conway as FAI President is 'disappointing'. It follows a meeting between Minister Ross and officials from FIFA and UEFA last night pic.twitter.com/9inXODzq1r

— RTÉ News (@rtenews) July 27, 2019
We need your consent to load this rte-player contentWe use rte-player to manage extra content that can set cookies on your device and collect data about your activity. Please review their details and accept them to load the content.Manage Preferences
Governance Review Group Report must be 'honoured'- Conway
Meanwhile, speaking at the FAI AGM, Mr Conway said the organisation wanted to honour the Governance Review Group Report, which found the association must change its culture and behaviour.
The report was carried out in conjunction with Sport Ireland and was approved by UEFA and FIFA.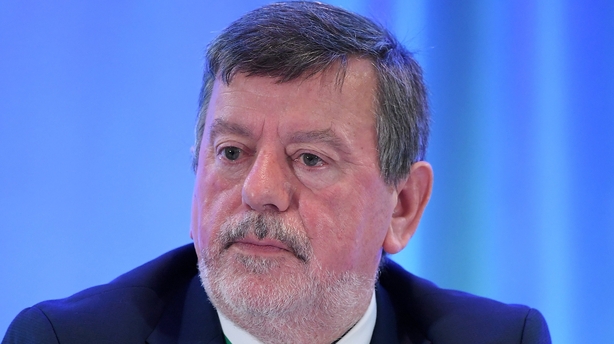 Mr Conway said that the organisation wants to honour that report and it is a road map for the future of the association.
The Governance Review Group Report will be calibrated over time, he said, but it is the first key milestone on the road to change.
Outgoing Vice President Noel Fitzroy withdrew from the race to be re-elected to his role.
He said that it was with deep regret that he made his decision but he felt that he was left with no alternative but to withdraw in order to uphold responsibilities to the Governance Review Group report.
One of the recommendations of the Review was that no more than one or two of the 'old' board go forward and following the re-election of Mr Conway as President, Mr Fitzroy said that he found himself in an "impossible situation"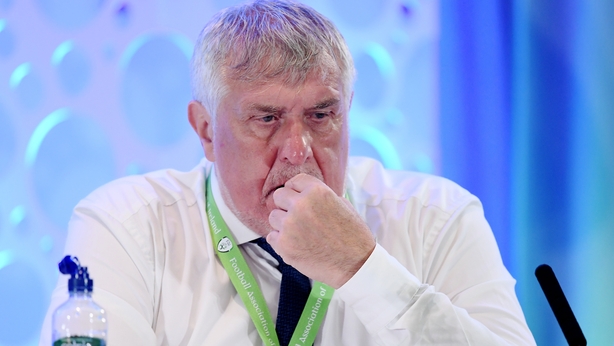 He said that he never has and never will do anything to injure the association.
He thanked the United Churches League and Shelbourne FC for his nomination paper.
He went on to say that the decision to withdraw his nomination was devastating to him personally but that he made it in the best interests of the association.
Gerry McAnaney from the Defence Forces and Paul Cooke of Waterford will now go forward for election as Vice President
Earlier, FAI General Manager Noel Mooney said that the Association must show solidarity now more than ever.
He added that the FAI is working closely with UEFA to move football forward, and said they would embrace change.
Mr Mooney, who is on a six-month secondment from UEFA, thanked UEFA and FIFA, who he said are safeguarding the future of the FAI.
Mr Mooney thanked Mr Conway for the leadership he has shown in tough times for the FAI.
He said he will help the new board settle in and will hand over the baton after a year.
Mr Mooney confirmed that he will return to UEFA at the end of his six months at the FAI, but for the next few months he will hope to steer the FAI through "stormy waters and lead them to calm waters ahead".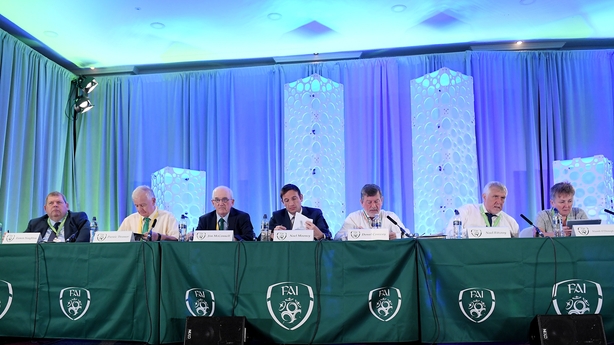 There were 160 delegates present at the AGM. Over 140 were entitled to vote meaning that 105 votes were required for resolutions to be passed
FAI delegates were presented with the changes in their constitution that were voted on at last week's Extraordinary General Meeting.
The rule changes allow the 78 recommendations of the Governance Review Group to go through.
With resignation letters received from all of the previous board members, Mr Conway thanked them for their contribution and announced a new interim board drawn from the various football constituencies.
Dick Shakespeare of UCD and Martin Heraghty of Sligo Rovers will take their place on the new Board as National League representatives.
They will be joined by Joe O'Brien of Colleges and Referees, Dave Moran of the Leinster Senior League, and John Finnegan of the Munster Football Association.
John Earley, a previous board member who had resigned his position because of a lack of representation of the Schoolboys Leagues has been elected from that constituency, which in effect led to Mr Fitzroy reluctantly withdrawing as a candidate for Vice President.
There will therefore be two ex-board members from the 'old' FAI serving on the interim board.
Four independent members will be appointed in due course by a nominations committee which will be chaired by Mr Conway. At least two of these directors must be female.
For the first time ever, the AGM did not see the accounts of the previous financial year because of ongoing investigations and audits.
That means that this element of the business of the AGM was adjourned until the autumn.