Thousands of Orange Order members have taken to the streets of Northern Ireland to celebrate the main date in the Protestant loyal order parading season.
The "Twelfth of July" events mark the anniversary of the Battle of the Boyne in 1690, when Protestant King William defeated Catholic King James II in Co Meath.
Marching bands and loyal order lodges paraded through streets before congregating at fields to hear speeches and prayers delivered by senior Orangemen.
The longest parade was in Belfast, where hundreds of Orange lodge members, accompanied by about 60 bands, made their way through the city towards the demonstration field on the southern outskirts.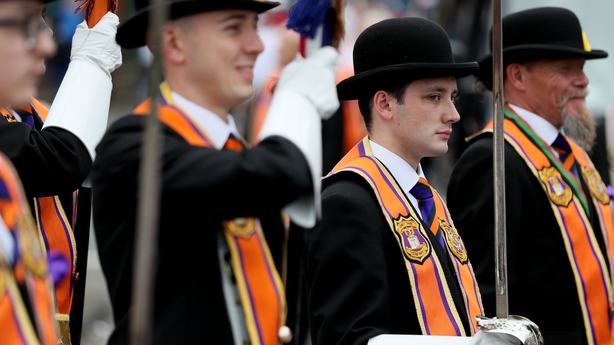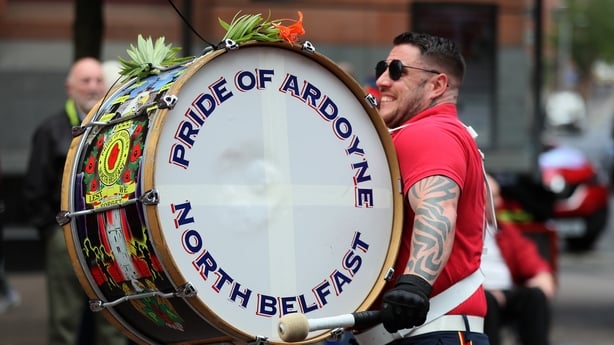 While tension around Drumcree and the Ormeau Road largely dissipated as the peace process developed, the Ardoyne stand-off remained an annual source of intense community discord until relatively recently.
A locally negotiated temporary deal brought a measure of resolution to that impasse in 2016, resulting in largely incident-free Twelfths over the last number of years.
Meanwhile, firefighters said there was "significant decrease" in the number of emergency calls due to bonfires last night.
A bonfire off the Sandy Row was adorned with Irish flags and a Sinn Féin poster. Celtic and Palestine flags were also set alight.
Scores of people gathered on Cavehill to watch the fires from high above Belfast.
The Northern Ireland Fire and Rescue Service noted a "significant decrease" in activity compared to this time last year.
Between 6 and 11pm, 12 bonfire-related incidents were recorded.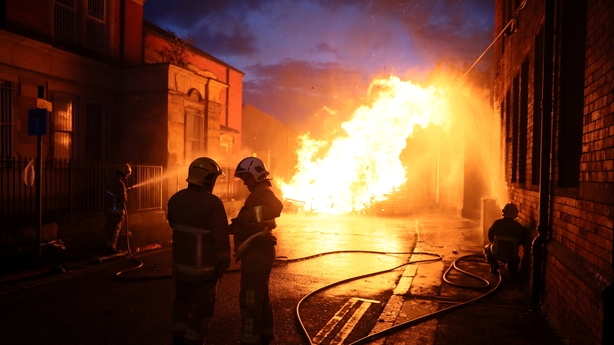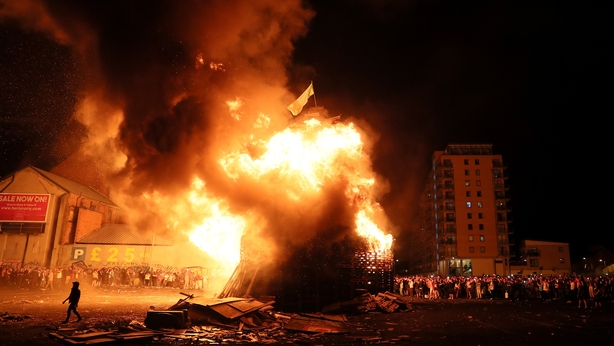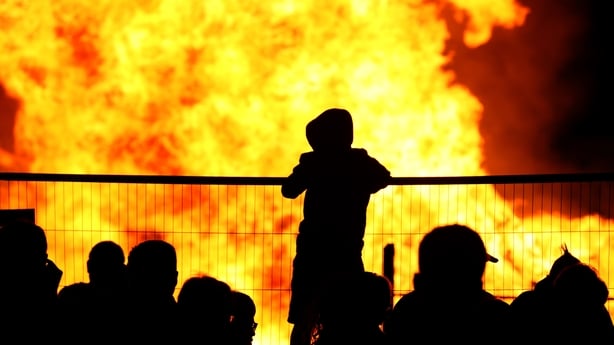 Police officers came under attack from petrol bombs on the Springfield Road and two arrests were made.
A 16-year-old boy was arrested on suspicion of unlawful assembly and a 17-year-old boy was arrested on suspicion of riotous behaviour.
Both were released on bail pending further inquiries.
A 52-year-old man was arrested and charged with a number of offences, including criminal damage in relation to the placement of offensive material on a bonfire in Lisburn
He is due to appear at Lisburn Magistrates' Court next month.
PSNI Assistant Chief Constable Barbara Gray said disorder was not on the scale witnessed in past years on the Eleventh Night.
"I am relieved that over the past 24 hours we haven't seen a repeat of the violence we witnessed on our streets this time last year," she said.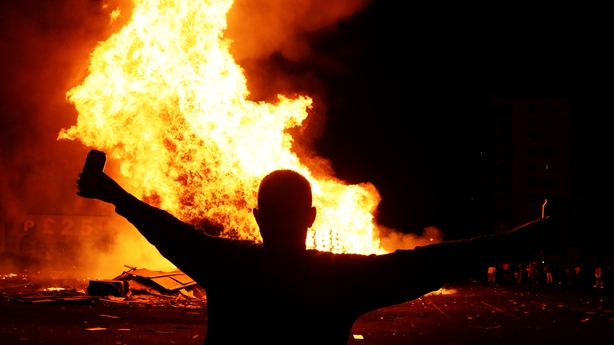 In an apparent reference to the stand-off over the Avoniel bonfire in Belfast, Ms Gray said: "There is absolutely no doubt that there has been challenges over the last week, not just for us as a police service but for other public services".
Yesterday, councillors backed down over plans to demolish the bonfire, which had been built at the Avoniel Leisure Centre's car park.
Belfast City Council abandoned an attempt to remove the structure, after its hired private contractor pulled out of the job following the appearance of sinister graffiti threats close to the site purporting to identify the company.
The PSNI had warned the council that sending in contractors, escorted by its officers, could have prompted serious disorder orchestrated by the East Belfast grouping of the paramilitary Ulster Volunteer Force (UVF), with the risk of violence.
On UVF involvement at Avoniel, Ms Gray said: "I have no doubt that at Avoniel there was influence from East Belfast UVF, I have absolutely no doubt about that."
She insisted that police had been "ready to go" and escort contractors into the site before the company pulled out of its arrangement with the council.