The Direct Provision Centre Hatch Hall, which is situated in Dublin city centre, will close next month.
The Department of Justice says it is due to circumstances beyond the control of the Reception and Integration Agency (RIA).
Founded by the Jesuits in 1913, it provided accommodation for third level male students studying in Dublin until its closure in 2004.
It has been used as a Direct Provision Centre for more than ten years.
In a statement the Department of Justice said: "We are disappointed by this development and we recognise that this will be an unsettling time for our residents."
It added that the RIA is proactively engaging with residents to discuss their options in order to minimise disruption. 
This, it says, includes seeking to re-accommodate those still in the protection process within RIA's accommodation portfolio and providing residents with status/permission to remain with support from DePaul Ireland to move on from RIA accommodation and into mainstream housing.
It comes as the department said that it is struggling to provide accommodation for an increasing number of asylum seekers, with 760 now being housed in emergency accommodation.
Senior officials also told the Oireachtas Justice Committee that 730 individuals with the right to remain are still in Direct Provision because they cannot find housing elsewhere.
"Coupled with an increase in the number of people applying for protection in recent years is the large number of people with an international protection status or a permission to remain who continue to live in RIA accommodation," Deputy Secretary General Oonagh Buckley told the committee.
"We have approximately the same number of people in this scenario as we have applicants housed in emergency accommodation."
Fine Gael Senator Martin Conway raised the case of a group of asylum seekers housed in a hotel who were temporarily bussed out to facilitate a wedding in the same venue.
Ms Buckley said they were aware of the case and had secured assurances that this would not happen again.
Ms Buckley said the use of emergency accommodation was suboptimal as they could not impose standards in the same way they could in Direct Provision centres, but they struggled to stay ahead of the demand.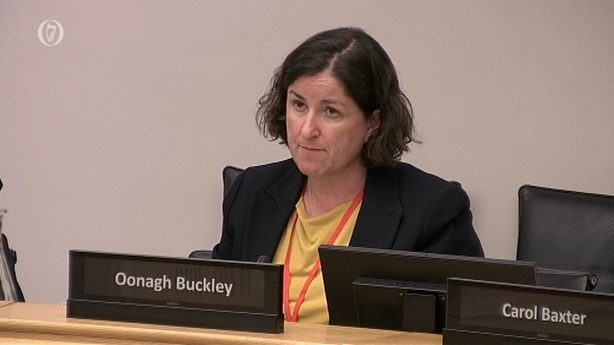 "It is not possible for us to estimate how many people will present looking for international protection in any one day. For example there was one day at the beginning of this year where 132 people presented themselves looking for protection in a single day," Ms Buckley said.
The committee was also told that the countries from where individuals are presenting had changed with a large proportion now coming from Albania and Georgia, both regarded as safe countries by Ireland.
"Very large numbers of people are presenting seeking international protection from those countries. We believe that is due to a change in the visa arrangements in the Schengen area which is outside the control of Ireland.
"But those changes could not have been anticipated by the Department of Justice at the beginning of last year," she said.
She also said they were working to increase their stock of beds in Direct Provision to try to keep ahead of demand.
Independent Senator Frances Black raised the case of a Direct Provision company, Bridgestock, which runs two centres in Sligo and Mayo.
"The state pays them around €6m per year to run these centres and since 2000 they have almost made €100m. In 2011 however, the company became unlimited and the majority of its shares were transferred to the British Virgin Islands. This means that detailed accounts are not published," Ms Black told the committee.
Ms Buckley said that they required all the companies they interact with to comply with the law of the land and to have a tax clearance cert.
The officials from the Department of Justice and Equality also said that a number of people who were seeking asylum in Ireland last autumn had to be turned away as no places were available in the Direct Provision System.
Ms Buckley said that this was the reason why the Department moved to the emergency accommodation model. She said that people were now staying in up to 25 different locations in hotel beds.
She said that the Department will be moving into a more active phase in assisting persons to move out of Direct Provision more promptly when their protection position has been processed.
She also stated that the cost to the State is expected to rise from €78m last year to above €100m due to the cost of providing emergency accommodation in addition to increased numbers of people presenting and new standards for DPC's which are to come into effect.
Additional reporting Edel McAllister