Majella Moynihan has said despite everything she has gone through and how she was treated by An Garda Síochána that she is still "strong".
"They thought they could break me. They didn't," she told RTÉ Radio.
The former member of the force was subject to an investigation and threatened with dismissal after she became pregnant by another garda in 1984. Ms Moynihan was 22 years old at the time.
Speaking on RTÉ's Today with Sean O'Rourke, she said: "I'm a very strong woman and I am so grateful for my strength, but I have worked so hard. I have done counselling for years and years.
"They no longer have a hold over me. Today I'm free."
In response to a question about the toll it took on her health, Ms Moynihan said she had attempted to take her own life five times and spent time in St John of God hospital in Dublin, which provides mental health treatment and care.
She said she "welcomes and really appreciates" the Garda Commissioner's offer to meet and apologise to her in person for what happened to her when she was a member of An Garda Síochána 35 years ago.
Garda management said today that arrangements were being made to have the meeting as soon as possible. 
They also said that it was always the commissioner's intention to meet Ms Moynihan.
Ms Moynihan said she felt vindicated and a sense of freedom after it emerged that Drew Harris would meet her.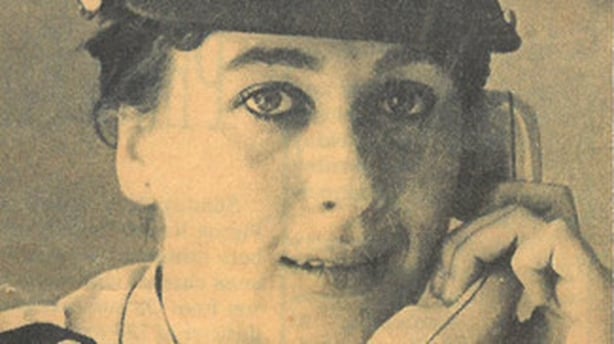 Both Commissioner Harris and Minister for Justice and Equality Charlie Flanagan issued statements apologising to Ms Moynihan after her story was broadcast on the RTÉ Documentary on One on Saturday.
We need your consent to load this rte-player contentWe use rte-player to manage extra content that can set cookies on your device and collect data about your activity. Please review their details and accept them to load the content.Manage Preferences
Call over apologies to former garda Majella Moynihan
Speaking to Sean O'Rourke, she said she was told by an assistant garda commissioner several years after she gave birth that "because of her history" she would never advance in An Garda Síochána.
She explained that about a year after she gave birth, she was brought in front of a senior garda in Harcourt Square, who said "if that ever happened you again, you're sacked".
"We were guards. We were supposed to have higher morals than anyone else in the country", she said.
Ms Moynihan also said that she was told that if she had had an abortion, she would not have brought the force into disrepute.
The father of her child told her to "leave the past in the past".
She said she was shunned by a lot of colleagues at the time. Many have come forward since the documentary was broadcast to apologise for not having been more supportive. But, she said, it was the system and she felt they gave as much support as they could.
Ms Moynihan, who left the force in 1998, said she was "overwhelmed" by the response to the documentary, which aired on Saturday afternoon.
In 1984, an internal garda investigation was carried out for a breach of discipline, and she was later charged with two counts under the 1971 Garda Síochána Regulations.
The charges related to premarital sex and giving birth outside marriage.
She was not convicted when the Archbishop of Dublin advised the then garda commissioner that such a conviction might encourage other gardaí to travel to the UK for abortions.
She said she was made aware that she would have been sacked without this intervention.
Ms Moynihan was then summoned to a sworn hearing on the conduct of the garda - the father of her child - where she had to testify about her sexual relationship with him and her sexual history.
The father was fined £90 for his conduct.
Directly after her son's birth, Ms Moynihan said he was initially placed in foster care before being legally adopted in December 1984.
She said the decision to give her son up for adoption was "a decision I regret till this day".
Ms Moynihan and her son have been in contact in recent years. She said the day she met her son was difficult because the "baby was taken and the man appeared".
She said she is hoping their relationship will develop into a powerful one.
Ms Moynihan remained a member of An Garda Síochána for a total of 15 years but, in 1998, eventually sought early retirement.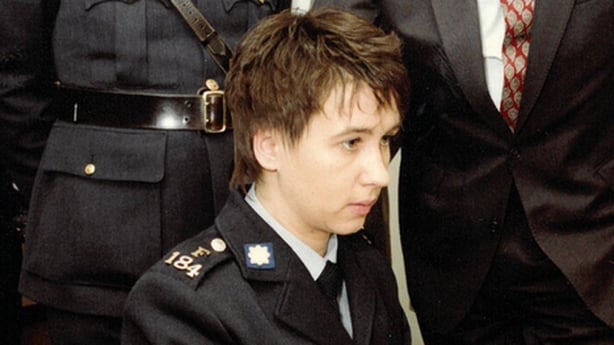 Today, Ms Moynihan said that she would be happy if she was offered compensation, but her story is not about that. She added that she has just told her story after 35 years and it is too soon to think about or discuss compensation.
Speaking to RTÉ News, she said she was glad she had told her story and overwhelmed by the response and that she wanted to encourage anyone who was in similar situations to now come forward.
She also hopes that files in relation to her case, that had once been released to her and were then later destroyed, can now be recovered. 
---
If you have been affected by issues raised in this report, help is available at the following services:
Samaritans
Freephone: 116123
Text: 087-2609090 (standard text rates apply)
www.samaritans.org
Aware
Helpline: 1800-80-48-48
Pieta House
Helpline: 1800-247-247
Text HELP to 51444
Mental health support services
www.yourmentalhealth.ie
---