The number of people commuting to work by bicycle increased by 44% between 2011 and 2017.
But despite the rise in popularity, women represent just one in four people who travel by bike.
The Dublin Cycling Campaign carried out research and spoke to a number of female cyclists about their experiences, to find out why women represent such a low proportion of those travelling on two wheels.
Louise Williams from Women On Wheels regularly cycles in Dublin, but used to live in the Netherlands.
She said over half of the cyclists there are women and that it is quite common to see women out cycling with their children there, which she said she does not often see in Ireland.
Other female cyclists expressed concern about having to dodge buses and taxis and said the experience can be quite nerve-wracking.
Some also said unwanted male attention can be a problem.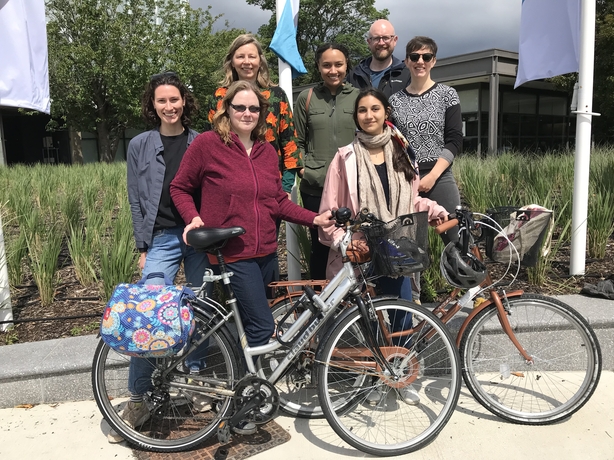 Rose Jones cycles 30km to and from work every day and said she has had a number of near misses with drivers.
"I've had cars almost clip me, and I was almost run off the road once when a car wasn't looking and turned directly into me," she said.
"I've never been directly hit, but I've had family members who were hit. It kind of forces you to be a little aggressive sometimes, because you're just a tiny person compared to a big vehicle."
Ellen Cullen and her family gave up owning a car ten years ago, and all their activities - like going to the supermarket or bringing the kids to GAA training - are done either on foot or by bike.
She said better infrastructure would encourage more people to give up their cars.
"Having cycle lanes that are segregated, and having junctions that are well-designed so people don't feel vulnerable, I think that would make a huge difference. I know so many women that won't cycle with children," she said.
We need your consent to load this rte-player contentWe use rte-player to manage extra content that can set cookies on your device and collect data about your activity. Please review their details and accept them to load the content.Manage Preferences
Researcher Janet Horner said the experiences of the women point to one obvious conclusion, which is that cycling needs to be made safer.
"The infrastructure makes a difference," she said.
"We know that segregated cycle lanes are safer, and that women are more concerned with safety in public space. If they feel that they have a safe route they can take as they go about their daily activities, they will use those cycle facilities."
Louise Williams said she believes things will only change if women are part of the planning process.
"If you were to go to one of those meetings, I don't think you'd see many women around the table when they're discussing the plans to actually build cycle routes. We need to have our voices and experiences listened to."