When Seán Ó Fearghaíl was re-elected to the Dáil for Kildare South three-and-a-half years ago, he had not contemplated becoming Ceann Comhairle.
Members of the Dáil voted him in, in an historic first direct election of Ceann Comhairle na Dála.
Now as Oireachtas members are taking a collective breather after the Local and European elections, the Ceann Comhairle spoke to Sharon Ní Bheoláin for The Week in Politics.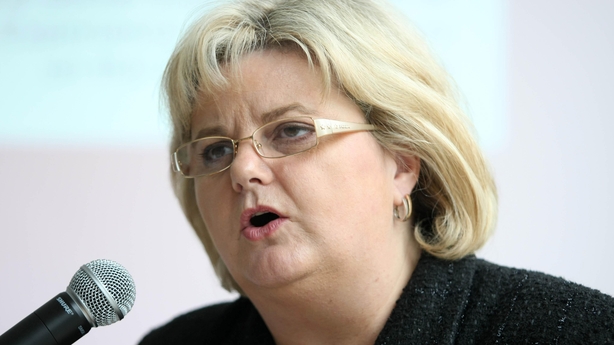 Looming large in the Ceann Comhairle's office for many months was the case taken by the former CEO of Rehab, Angela Kerins, over her treatment by members of the Public Accounts Committee.
Late last month, the Supreme Court found that treatment was unlawful.
In his first public response to the judgment, the Ceann Comhairle has now expressed his deep regret at what happened and issued a personal apology to Ms Kerins.
He told The Week in Politics the judgment was a "watershed" for members of the Oireachtas and it was "chilling" that the court found that a Dáil committee effectively broke the law and trampled on the rights of the former Rehab CEO.
"I would personally apologise to Ms Kerins for the fact that that had happened and our absolute determination is to ensure that in what remains in the 32nd Dáil, and in future Dáileanna, that type of situation will not happen again," he said.
In response to the judgment, he said an internal group of civil servants had been set up to look at its implications and look at the broad functionality of Oireachtas committees, including the duplication of inquiries.
Mr Ó Feargháil was sharply critical of duplication.
He said: "It was very obvious that there was excessive duplication and part of the reform package we are looking at is streamlining how the committee system functions, perhaps giving the business committee a role.
"The idea of witnesses coming before two or three committees is patently ridiculous."
The changes are imminent, according to the Ceann Comhairle.
Once the Dáil returns in September, he hopes to put proposals to the house to amend standing orders and immediately begin to amend how the committees operate.
Could all that negatively affect the ability of committees to conduct inquiries?
"We have to be able to have robust questioning, but we don't want echo chambers, but we can't have star chamber either, so there has to be an agreed protocol around how we will deal with witnesses, robustly questioning them on the pertinent issues, but respecting those witnesses who have come before us at the same time," he said.
On the working of "new politics" in the Dáil, the Ceann Comhairle is enthusiastic.
He thinks it has been successful for the most part, with eight distinctive groups in the house getting Dáil time based on their proportionate seat strength.
He rejected claims that large numbers of opposition and private members bills ultimately get mired down and stopped at committee stage or some other point in the legislative process.
Mr Ó Feargháil also rejected the notion of any return of the so-called guillotine used in the last Dáil to drive bills through without debate, describing it as "very crude".
He also defended the parliamentary tactic of filibustering, deployed by members seeking to stave off the inevitable passing of bills.
The father of three daughters, Mr Ó Fearghaíl said neither they nor his wife were fans of gender quotas to increase the numbers of women taking part in politics at a local or national level.
He acknowledged quotas have their place, they are already in use for Dáil elections, and he would absolutely support a gender quota for the next local elections.
"If you're not getting the numbers in the normal way you need to take extraordinary temporary steps to ensure you get participation," he said.
In that regard, he also said a number of new measures have been put in place to facilitate new mothers and parents, following the experience of Fianna Fáil TD Niamh Symth, who had to hand in a sick cert when taking time off after her daughter was born during the Dáil term.
"I don't think we're going to change the whole political system, nor do I think many women would want us to change the system entirely," he said.
"We do have a crèche here and in this Dáil we've made arrangements now ... for an additional staff member to be made available to a member on maternity leave to support them in their constituency activities."
Adoptive leave and breast feeding in the Dáil chamber will be facilitated, but the Constitution prevents remote voting.
With speculation continuing about the date of the next election, the question of the Ceann Comhairle's future inevitably arises.
He is constitutionally guaranteed his Dáil seat one way or another, but will he go again for the job?
Mr Ó Fearghaíl said: "I never contemplated this role until about three weeks before the position was filled.
"When I contested I had no great expectation of winning ... so it will be very much in the hands of the next Dáil and myself and my family whether I contest or not. Were they to select me again in the next Dáil, well they would know what they're getting."
That said, the Ceann Comhairle also indicated he is very much in two minds about his future, citing the impact the job has on his personal and family life.
For now, the work continues and the Ceann Comhairle takes particular pride in the fact that an all-party committee to look at health, education, employment and housing issues affecting the Traveller community has just been set up.
Mr Ó Fearghaíl is also pleased the extensive refurbishment of Leinster House, which began in 2017, is close to finished.
He expects it will be fully reopened in September, only slightly over time and slightly over budget.