A group of schoolchildren came face-to-face with the President of the United States during his round of golf in Co Clare.
Donald Trump was playing the full 18 holes at Trump International at Doonbeg ahead of his return to the US this afternoon.
Donald Trump meets school children while playing golf in Doonbeg, Co Clare | Read more: https://t.co/NUirJnmx9t pic.twitter.com/wYso3HuQSm

— RTÉ News (@rtenews) June 7, 2019
Principal of Clohanes National School Aideen O'Mahony said it has been a "very exciting" morning for pupils and staff.
Speaking on RTÉ's News at One, she said the small two-teacher school is actually in the restricted security area around the Doonbeg hotel, so the children had to get passes to come to school this week.
"We kind of got wind that the president would be playing all 18 holes. The ninth hole is just adjacent to my parent's land - I'm local here. We decided to take the children to the hillside near the ninth green," said Ms O'Mahony.
"All the children were there, we had our flags and they were waiting patiently. As he was coming up the ninth fairway, he waved to the children and we were waiting on the hillside, and then one of the secret service came over to us and said 'the president would like to meet the teachers'.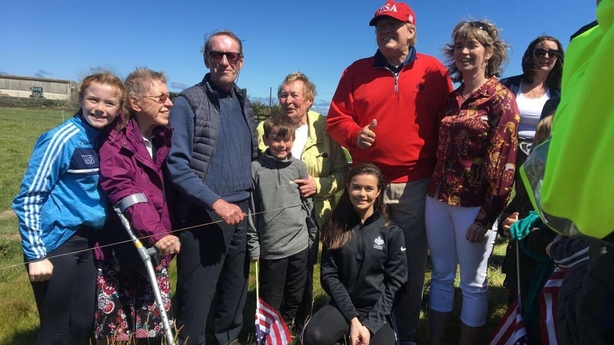 "There were four members of staff there, so the four of us went up on to the tee box and he shook hands with us and he spoke to us."
The president came down to where the children were on the hillside to meet the children, she said.
"He met them, he shook hands with all of them, he stood for photographs, and we sang a few verses of songs for him, and he spoke to the children, and he was just so pleasant with them.
"They are just absolutely gobsmacked, they just can't believe it. They have had just an absolutely amazing, amazing morning," said Ms O'Mahony.
Aideen O Mahoney, Principal Clohanes National School, Doonbeg describing today's meeting with @realDonaldTrump in #Doonbeg pic.twitter.com/UyRNrkNNzz

— Tomás O Mainnín (@omainnintomas) June 7, 2019
The children sang a verse of My Lovely Rose of Clare for Mr Trump.
"It was totally unexpected, it wasn't planned, it wasn't organised. We just decided to take it upon ourselves to go to the hillside and see him from a distance and wave a flag," said Ms O'Mahony.
Sung for ?@POTUS? on9th green Doonbeg ?@rtenews? pic.twitter.com/hCp8TYISR2

— Cathy Halloran (@HalloranCathy) June 7, 2019