Earlier this year survivors of the mother-and-baby home at Tuam, Co Galway, gathered at NUI Galway for the launch of The Tuam Oral History Project. 
The initiative, separate to the Mother and Baby Homes Commission, is aimed at giving survivors and those associated with the home an opportunity to tell their personal stories. 
Some of the survivors spoke to Morning Ireland ahead of the project's launch. 
Given time restrictions, not every part of their story made it on air and Morning Ireland Extra, our new podcast, aims to expand on those stories. 
This is Teresa O'Sullivan's story.
"That picture is very, very dear to my heart and I still shed a tear, 62 years on I still cry for that little baby and that's what I want you to know".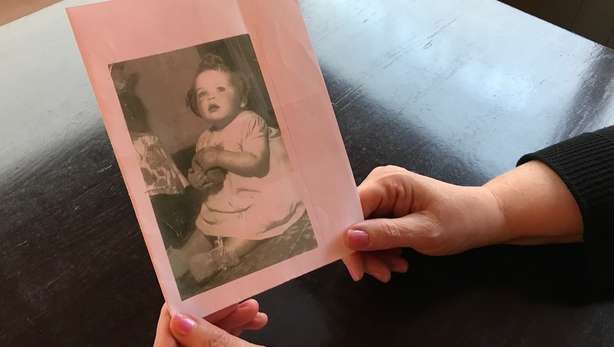 Teresa O'Sullivan, a survivor of the mother-and-baby home in Tuam holds a picture of her one-year-old self.
"First of all I think, on my own behalf, I think I have lovely eyes but I also think there's a bit of a sadness about them as well, the way they're looking up".
It's the only photo she has from her time in the mother-and-baby home. It's a picture of a well dressed little girl. 
Teresa is a retired nurse, she lives in Limerick with her husband and has two children aged 31 and 28. Although she has no memory of it, Teresa began her life in the Tuam home because she was born outside of marriage.
She is one of a number of survivors taking part in the oral history project - which aims to provide survivors with an opportunity to tell their stories, not just of their time in the home, but also of their lives afterwards. 
Despite being adopted into a loving family in west Cork, Tuam would prove to be the backdrop to Teresa's life.
Her mother came back looking for her, but by that time she was in Cork. Her mother was told by the nuns that she had already messed up her life and she wouldn't get an opportunity to mess up Teresa's.
Years later they would reunite.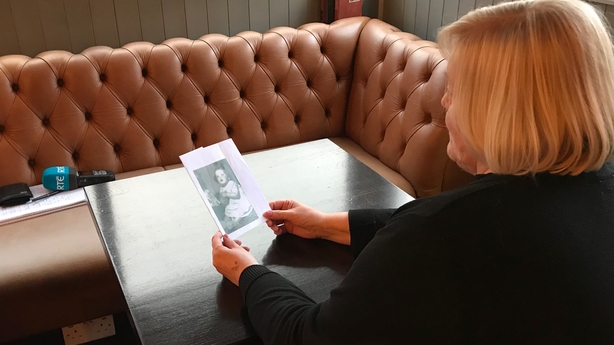 "I was very worried about what she wore" Teresa explains.
"If she wore a posh dress, I would wear a posh dress. But if I thought that she was in a situation where things hadn't really worked out for her and her circumstances were very poor I did not want to wear a posh dress.
"I did not want her to feel that I hadn't got on well in life, that she had nothing to be guilty about or sorry for".
The mother-and-baby home in Tuam has received huge attention both in Ireland and abroad.
Catherine Corless discovered official records showing that 798 infants and children had died at the site of the  home, which was run by the Bon Secours Sisters from 1925 to 1961.
She believed that most of these children were buried on this site, which is partly covered by local authority housing and a playground.
A significant quantity of human remains were found in septic tanks.
Catherine explains: "Up to 800 children missing and then when we realised that they were placed in a former sewage area which was, we believe, a sewage tank. I think that was the epitome of heartache".
As she puts it, these children and their mothers were treated as second class citizens.
"It seemed to be the final insult to bury them without name, without a record and especially in a sewage tank".
Both Teresa and Catherine will take part in NUIG's Oral History Project. They believe it's vital that the stories of Tuam are recorded, told and re-told. 
The next podcast will feature other survivors and those coordinating the oral history project.