Drivers caught speeding on National Slow Down Day include four who were travelling more than 50% above the speed limit.
One driver was detected travelling at 87km/h in a 50km/h Zone on the R118 Rock Road in Dublin.
Another Dublin driver was noted travelling at 81km/hr in a 50km/h zone on the R102 at Griffith Avenue in Dublin 9, while a driver in Cork was caught travelling at 154km/h in a 100km/h Zone on the N20 at Kilmona, Grenagh.
National Slow Down Day was held over a 24-hour period between 7am yesterday and 7am this morning.
In total, An Garda Síochána and GoSafe checked 195,768 vehicles and detected 304 travelling in excess of the speed limit.
Chief Superintendent Paul Cleary, of the Roads Policing Bureau said: "We would like to thank the 195,768 drivers who were found to be compliant and drove within the speed limit and would encourage all drivers to drive safely, comply with and respect speed limits."
He added: "I would like to thank the Road Safety Authority and all the organisations who were involved in and supported this campaign. Drivers, please, think about the consequences of speeding the next time you get behind the wheel and reduce your speed accordingly."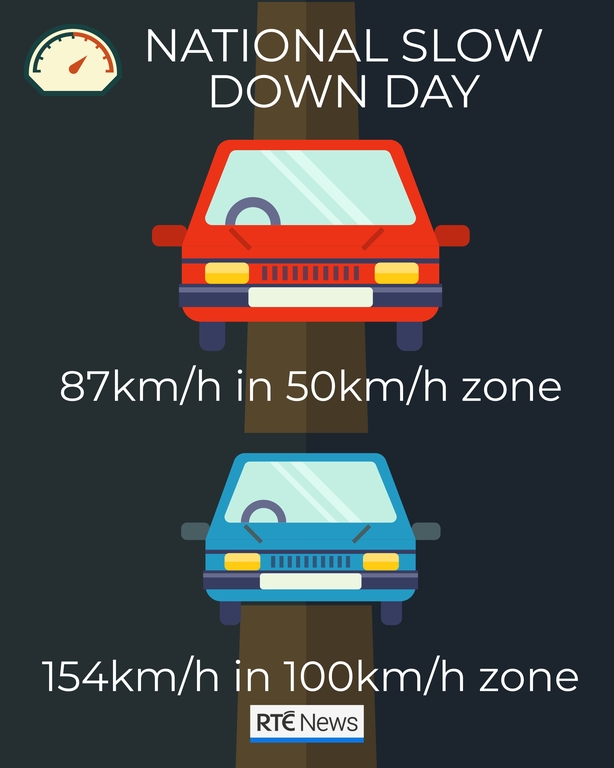 Notable detections
87km/h in a 50km/h Zone on the R118 Rock Road Dublin 4 Dublin
81km/h in a 50km/h Zone on the R102 Griffith Avenue Dublin9 Dublin
79km/h in a 50km/h Zone on the R445 Ballymany Newbridge Kildare
154km/h in a 100km/h Zone on the N20 Kilmona Grenagh Cork
115km/h in a 80km/h Zone on the N55 Auburn Glasson Westmeath
143km/h in a 100km/h Zone on the N26 Ballynahaglish Ballina Mayo
70km/h in a 50km/h Zone on the R556 Montanagay Abbeydorney Kerry
138km/h in a 100km/h Zone on the R132 Mell Killineer Louth
82km/h in a 60km/h Zone on the N54 Cornecassa Demesne Monaghan Monaghan
132km/h in a 100km/h Zone on the N11 Mt Kennedy Demesne Newtownmountkennedy Wicklow
65km/h in a 50km/h Zone on the R198 Aghadegnan Longford Longford
77km/h in a 60km/h Zone on the M7 Lewistown Naas Kildare
77km/h in a 60km/h Zone on the N69 Billeragh Listowel Kerry
128km/h in a 100km/h Zone on the N18 Cratloe Clare
153km/h in a 120km/h Zone on the M7 Ballyshaneduff Or The Derries Ballybrittas Laois
75km/h in a 60km/h Zone on the M7 Lewistown Naas Kildare
62km/h in a 50km/h Zone on the R510 Dock Road Limerick Limerick
62km/h in a 50km/h Zone on the R527 Ballysimon Road Limerick Limerick
62km/h in a 50km/h Zone on the N22 Farranfore Farranfore Kerry
124km/h in a 100km/h Zone on the N18 Clonmoney West Bunratty Clare
124km/h in a 100km/h Zone on the N7 Kill West Kill Kildare
124km/h in a 100km/h Zone on the N25 Parkeennaglogh Newtown Waterford
99km/h in a 80km/h Zone on the R148 Moyvally Broadford Kildare
123km/h in a 100km/h Zone on the N80 Derryclure Killeigh Offaly
61km/h in a 50km/h Zone on the Clontarf Road Dublin3 Dublin
61km/h in a 50km/h Zone on the N20 Rathgoggan South Charleville Cork
122km/h in a 100km/h Zone on the N20 Ballymartin Blarney Cork
72km/h in a 60km/h Zone on the N76 Margarets Field Kilkenny Kilkenny
96km/h in a 80km/h Zone on the R352 Moymore Tulla Clare
119km/h in a 100km/h Zone on the N13 Listellian Letterkenny Donegal
95km/h in a 80km/h Zone on the R392 Forgney Ballymahon Longford
94km/h in a 80km/h Zone on the R403 Ovidstown Clane Kildare
94km/h in a 80km/h Zone on the R458 Drumumna Crusheen Clare
94km/h in a 80km/h Zone on the R733 Ballyknock Ballymitty Wexford
117km/h in a 100km/h Zone on the N5 Cloonmore Termonbarry Roscommon
70km/h in a 60km/h Zone on the Malahide Road Coolock Dublin5 Dublin
70km/h in a 60km/h Zone on the R336 Na Haille Indreabhán Gaillimh
93km/h in a 80km/h Zone on the R733 Bargy Commons Cleristown Wexford
92km/h in a 80km/h Zone on the N56 Drumark Donegal Donegal
115km/h in a 100km/h Zone on the N25 Ballyadam Carrigtwohill Cork
137km/h in a 120km/h Zone on the M1 Lusk Dublin
114km/h in a 100km/h Zone on the N76 Tullamaine (Ashbrook) Callan Kilkenny
91km/h in a 80km/h Zone on the R338 Coast Road Galway Galway
136km/h in a 120km/h Zone on the M7 Meelick Portlaoise Laois