"There aren't any other girls at most of the competitions I show up at."
At this time of the year, Joanne Devaney can be found shearing up to 200 sheep a day, six days a week.
"I suppose it can turn a few heads, especially among people who haven't seen a female shearer before, but I've always felt very welcome in the show industry and around farms in general," said the 21-year-old from Co Sligo.
Ms Devaney began shearing as a teenager on the family farm in Barnaribbon, at the foot of Benbulben mountain.
"When I was growing up, I was always out doing the wool for my dad. Then my brother picked it up. One day one of them gave me a handpiece and I just started using it."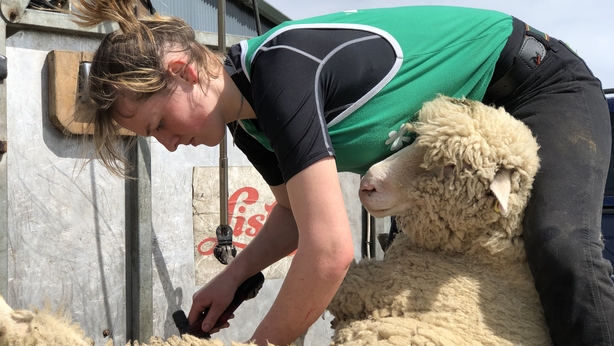 For the past three years, the Agriculture student has been Ireland's 'Queen of the Shears' at the All-Ireland Sheep Shearing Championships.
She is expected to take the title again at the 2019 event which takes place in Cashel, Co Tipperary this weekend.
"There used to be a couple of women going for it, but they don't any more. I used to see women like Breda Lynch and Colette Deegan up on stage and they were big influences. But the girls aren't shearing now. So I'm handed the cup every year. Hopefully there will be someone to challenge me in years to come."
While Joanne is focusing on the All-Ireland, she is also looking forward to being part of the Irish team at the World Shearing and Woolhandling Championships in Le Dorat, France in July.
"They asked me to be part of the woolhandling team and I jumped at the opportunity. It's crazy that I'm going to have a green blazer this early in my career," she said.