Efforts are under way by the port of Cork city and Belfast Harbour to transport cruise line passengers to Dublin city by bus or by train, when the Dublin Port closes for refurbishment.
From 2021, the number of berths available to cruise calls will halve at the port, to allow for work.
This year 160 ships are scheduled to moor in the capital, but in March, the Dublin Port Company announced that from 2021, only 80 ships will get access to berths.
A spokesperson for the Minister for Transport says Shane Ross has been encouraging other port and cruise industry stakeholders to take maximum advantage of options.
However, large cruise line companies are reluctant to include Ireland in future itineraries, due to lack of access to the capital city.
The cruise liner body, Cruise Ireland, is seeking to entice them to moor in Belfast and Cork; using buses and trains to transport passengers to the capital for day trips.
The Chairman of Cruise Ireland Conor Mowlds said that the challenge is one of mobility and satisfying passengers on the larger ships and who want to visit the capital.
So far, the cruise line companies have not embraced the suggestion.
Activity at Dublin Port has increased in recent weeks as the 2019 season of cruise liners visit enter port.
The Celebrity cruise ship, carrying 3,600 passengers from North America, visited Dublin last week for a "turnaround" - an industry term used when one group of passengers end their cruise journey to fly out of Ireland while another group jet in to start a new cruise.
Many spend time on the island after their cruise ends.
The All-Ireland Cruise Ship Action Group says turnarounds are believed to be worth up to €100 million to the Irish tourism industry and are concerned because they will not be allowed at the port from 2021.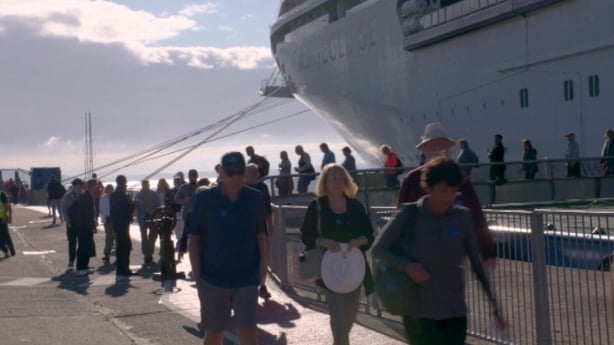 Retail Excellence Ireland has also expressed concern over the impact on businesses outside of Dublin.
The group says retailers are worried and dismayed at the "unilateral decision" by the port, which according to its Head of Public Policy and Communications Bryan Rankin has caused shockwaves all over the country.
He also says Minister Ross has not reverted to him to meet to discuss the matter.
Large cargo operators at Dublin Port say there is an immediate need for berths and cargo lay-down areas for containers and trailers or the port will grind to a halt.
Sources say "huge amounts of land" has been set aside at the port for Brexit; including a terminal where companies have been stockpiling goods awaiting clarity about the UK's exit from the European Union.
Following the announcement in March, the Dublin Port Company said if it is to cater for large numbers of cruise ships (in excess of 200) in the future, new berths would have to be constructed at North Wall Quay Extension, adjacent to the Tom Clarke Bridge and this would require co-financing and/or long-term financial guarantees from cruise lines.