Residents living in an apartment block in Dún Laoghaire in Dublin have been asked to vacate their homes for a second time to allow major refurbishment works take place.
Last year the Residential Tenancies Board ruled that lease termination notices served on residents at St Helens Court apartments by the previous owners was invalid.
Now new owners of the apartment complex "Mill Street Projects Limited" have contacted tenants asking them to vacate their homes on grounds of major refurbishment.
Some residents have been living there for 16 years. Seán Mitchell, says he is facing an uncertain future after receiving a lease termination notice for a second time.
Mr Mitchell said: "They want to refurbish the apartments but if you look around this apartment there's not a lot to be done to it.
"They are actually doing eleven apartments up that are empty and why can't they put us in to them and refurbish the ones that we're in."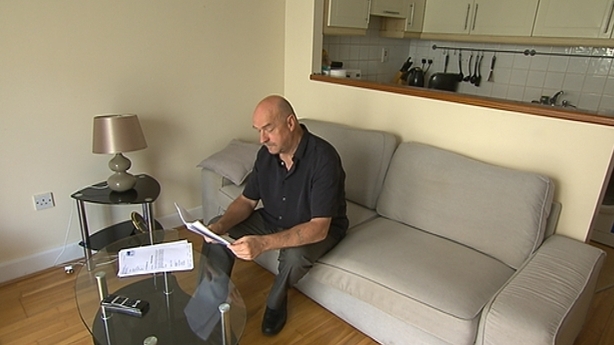 In a statement to RTÉ the Mill Street Projects Limited said: "Due to necessary remedial works needing to be carried out to the apartments and the overall block, we have been advised that the apartments must be vacated in order to carry out these important works."
It said: "Everything will be done in accordance with current regulations".
Solidarity-People Before Profit TD Richard Boyd Barrett is critical of existing tenant's legislation.
"If substantial refurbishment has to be done that requires the movement of tenants then that can be a justification for terminating a tenancy but that is an excuse that landlords can exploit to evict people for other reasons," he said.
Chief Executive of the Housing charity, Threshold John Marc McCafferty, says the Residential Tenancies Bill, which passed through the Oireachtas yesterday, will make it more difficult for landlords to evict tenants on grounds of renovation.
Mr McCafferty said: "It will mean that landlords need to satisfy a number of criteria to pass the test for a legitimate renovation and therefore the eviction of their tenants."
Meanwhile, Seán Mitchell, says he is concerned about finding accommodation in the face of a housing crisis, saying: "I can't get anywhere, I have nowhere to go, I've checked Daft.ie and there is nothing on it. There is ten of us here and we are all in limbo. No one knows what to do."