Housing associations delivered four out of ten new social homes last year taking over 4,000 households off social housing waiting lists.
Of the 3,219 social homes delivered in 2018, more than half were new builds.

The Irish Council for Social Housing (ICSH) said the figure exceeded the Rebuilding Ireland target for construction and acquisition by 345 units.
A spokesperson for the ICSH said it expects to achieve the target of providing 15,000 social homes by 2021.
However, it has called on the Government to publish the wording for the Land Development Agency (LDA) Bill in order to ensure this target is met.
The LDA was set up last September to develop State lands for housing development and regeneration.
Speaking on RTE's Morning Ireland, ICSH Chief Executive Dr Donal McManus said: "There is a capacity shortfall in the private construction industry. The Land Development Agency, we always thought, was a very radical approach, in terms of assembling land for social and affordable housing.
"It's a key thing, a practical vehicle to assemble land."
He said the agency will have a commercial remit like the National Asset Management Agency (NAMA), so it is important the legislation which underpins it is published and "is open to public scrutiny as soon as possible".
Dr McManus said the ICSH also wants the LDA to ring-fence at least 30% of housing on State lands for social housing and 20% for affordable housing.
He said the model the ICSH uses is different to local authorities.
"Our model is raising loan finance, getting some support from the State, and charging affordable rents for people in need of housing.
"We primarily house people on low incomes, and going forward, we think housing associations can play a bigger role in cost-rental schemes."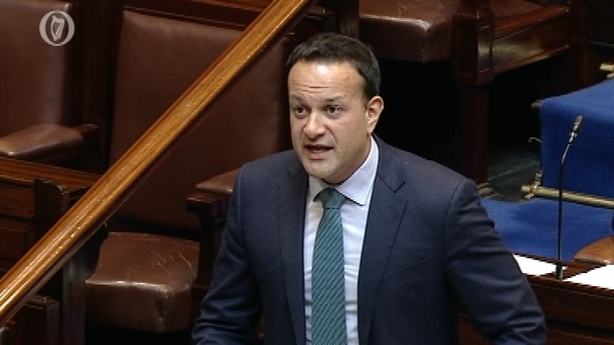 Taoiseach Leo Varadkar has told the Dáil that 18,000 houses and apartments were built in Ireland last year which he said is more than any year this decade. He said a quarter of this figure was for social housing.
Mr Varadkar said that last year the social housing stock was increased by 9,000, would increase to 10,000 this year, and to 12,000 after that.
He said that 50% of LDA sites would be used for social and affordable housing and the other half would be available for people to buy.
Mr Varadkar was responding to Green Party leader Eamon Ryan who said the Government has "lost the trust of people" in the area of housing.