The owner of the little terrier, who shot to fame when he took the train from Kildare to Dublin yesterday morning, has come forward to claim their dog.
The dog was given the name Hamish by Iarnród Éireann staff, but it was confirmed this afternoon that his real name is Tyson.
Iarnród Éireann worker Ted Maher (below), who has been looking after the dog after since he took the train from Sallins to Heuston Station yesterday, confirmed that his owner had contacted him.
However, Mr Maher said the dog has now been microchipped.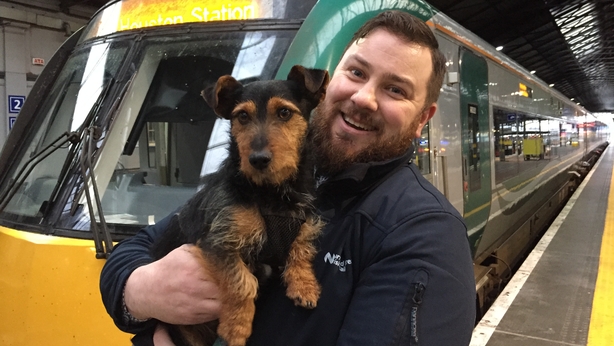 Hamish update!

🎉 His owners have been found!
🐶 His real name is Tyson!
🍟 He's getting chipped by @MyLovelyHorseR so if he goes a wandering again, he can be found
💕 Family reunion TBC
💶 The movie rights are exorbitant!

👏 Thank you to everyone for spreading the word! pic.twitter.com/Bt4pJAY7hr

— Iarnród Éireann (@IrishRail) April 4, 2019