Earlier today, the Irish Times reported that the medical files of more than 7,500 children are being reviewed as part of a large scale audit by the HSE following allegations that children were damaged by orthodontic services in the greater Dublin area. But just how serious was the damage they suffered?
Tonight, RTÉ Prime Time revealed for the first time new details of the impact on hundreds of children failed by State orthodontic care.
This story goes back to the 1990s when a number of what were known as Regional Orthodontic Units were set up around the country to treat children who needed dental work on public waiting lists.
At the time, waiting lists were very long but within a few years the regional units proved very successful at reducing waiting times.
In fact, in the Dublin Mid Leinster area we understand waiting lists were more than halved from 18,000 children to around just 6,000 children.
But all that changed when in the late 1990s support for the Regional Orthodontic Units was withdrawn. Some claim that resulted from lobbying by various interests who it's believed didn't support the idea of the units.
As a result the units ran into trouble and in effect began to collapse. The Regional Orthodontic Unit in the Dublin Mid Leinster area was particularly affected and the knock-on effect was that up to 9,000 children were left stranded mid treatment.
Many of them were still wearing orthodontic appliances meaning some suffered irreversible damage. The situation deteriorated so much that some parents staged sit-ins in dental clinics as they desperately tried to get treatment for their children.
RTÉ has obtained a series of anonymised photos that show the serious consequences for children who were essentially left abandoned by the system, consequences that were not only painful, but which had a lasting cosmetic effect.
In one case, a child was fitted with braces but went for over a year without being seen, leaving the child's mouth looking like this.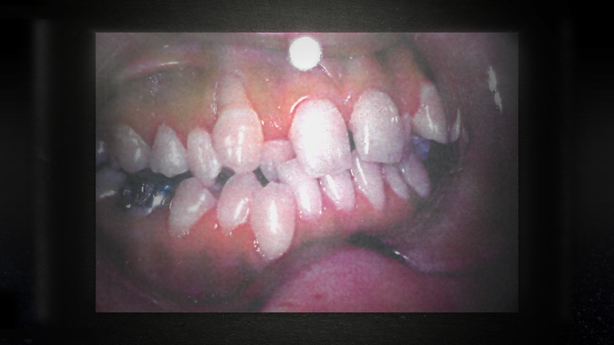 In another case, a child was also fitted with a brace and again was left unsupervised over a long period of time.
The brace became lodged in the child's soft palate.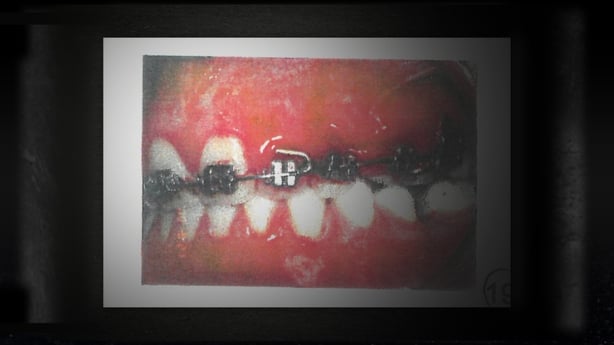 When the brace was eventually removed this spring was found buried in the patient's gum.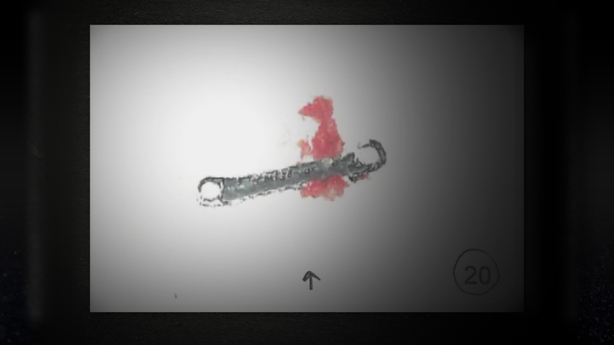 Other children presented with overcrowded teeth and appliances were fitted to make space in their mouths, but because their treatment was not stopped in time, excess spaces were created meaning they would need to have artificial teeth or implants fitted.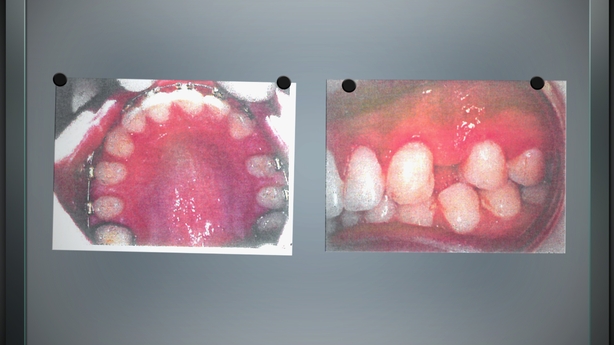 In all, hundreds of children were left worse off after treatment than if they had no treatment at all.
After the Regional Orthodontic Units ran into trouble a senior consultant orthodontist Ted McNamara, who himself was employed by the HSE, constantly warned over many years about the damage being done to children.
Eventually, a report into the issue was commissioned and in February 2015, two UK experts sent the HSE what can only be described as a damning report, detailing the harm suffered by children in the Dublin Mid Leinster area.
The experts concluded hundreds of children had been left with "permanent damage" and patient safety was put at "risk".
RTÉ understands that such was the concern of the experts, they recommended the wider review of over 7,500 cases, which is currently under way, should take place.
Yet that original report has never been published by the HSE.
RTÉ understands that in advance of completing the report, the UK experts secured assurances it would be published, but that agreement has to date been reneged on.
RTÉ has also seen correspondence in which the experts have repeatedly written to the HSE and Department of Health in frustration asking for the report to be published.
It included one letter from last September written by a senior HSE manager, which suggests HSE management were only then considering the report in terms of making improvements to safeguard patients.
In a statement, the HSE said it must ensure patient confidentiality and afford natural justice to all parties involved, but given this report contains such serious findings and it has been more than 4 years since it was received by the HSE, one has to wonder why publication can't happen at this stage - even if it is in redacted form.