A new survey has found that there is strong positive support for autistic people in schools, employment and society generally.
The study was commissioned by autism advocacy group AsIAm to coincide with World Autism Awareness Day, which is being marked today.
It is estimated that around one in every 65 people in Ireland lives with autism.
The results of the survey show that 25% of people say there is a person among their friends who is on the autism spectrum, while 40% of people believe they have a quite good or very good understanding of autism.
61% of people believe mainstream schools should be responsible for the education of autistic people.
Just over half of the respondents feel that autistic people could work in a job like theirs, while 23% say they could not.
More than seven in ten of those surveyed think autistic people could get married and establish families.
Elsewhere, the Irish Society for Autism is appealing to Minister for Health Simon Harris to progress the Autism Spectrum Disorders Bill through the Dáil and into legislation.
The charity said the bill will provide for a national strategy, which it says "is urgently required to address the complex and varying needs of people with autism and their families throughout their lifetime".
In January, former health minister James Reilly criticised Minister Harris for leaving the bill "lying dormant" for 18 months after it was unanimously passed in the Seanad.
Meanwhile, Sinn Féin has tabled a private members' motion in the Dáil calling for the development of an autism empowerment strategy.
The party's spokesperson on Education and Skills, Kathleen Funchion, said she wants to see an All-Party Oireachtas Committee on autism "set up immediately which would be tasked with developing and publishing a comprehensive Autism Empowerment Strategy within a six-month period."
We need your consent to load this rte-player contentWe use rte-player to manage extra content that can set cookies on your device and collect data about your activity. Please review their details and accept them to load the content.Manage Preferences
---
Sixteen-year-old Seán Mulligan has benefited from the assistance provided in schools through supports and services for young people on the autism spectrum.
The Dublin teenager, who is autistic, attends Ballinteer Community School. He says the measures provided to him have made a big difference to his life and have enabled him to attend a mainstream secondary school.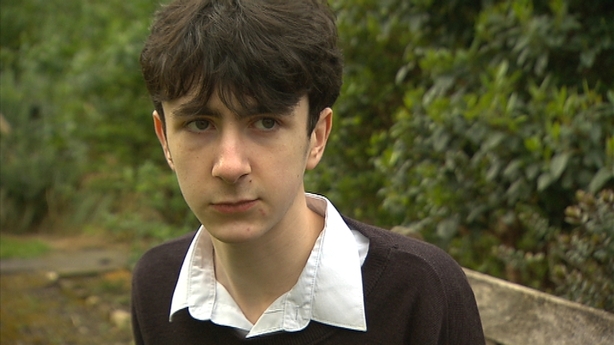 Seán said: "I think it was a combined effort of going to special meetings and support groups, and with the natural push from my parents, that I became comfortable in secondary school.
"Up until a point, my social skills were just very stagnant, and they didn't really take hold until I was really late in sixth class."
The student, who was speaking at an event in Dublin today to mark World Autism Awareness Day, also said his social skills have definitely improved in the last few years.
"Looking back, I had it kinda tough, I kinda struggled to get a footing as to what was and what wasn't appropriate, so I feel like in finding a circle of friends to confide in, was a huge boost towards my personal development."
Seán said going to school for someone who lives with autism is daunting but he also said being autistic will not hold him back.
He said: "The least I want is to be defined by autism.
"Spreading the word and shining the light for other autistic individuals, who may not have the confidence, is always a great thing.
"With all of the knowledge I have gotten, I am able to continue without needing to be defined by my condition."