Tucked at the back of an industrial estate in Glasnevin there is a warehouse with shelves piled with donated fresh, tinned and boxed food.
The Crosscare food bank redistributes surplus products from food producers, supermarkets and manufacturers to over 70 charities working to help those marginalised or living in poverty.
A small section of the warehouse is dedicated to sanitary wear. These products are never on the shelf for long.
Crosscare's Senior Manager for Food and Community Services points out that over 90% of people who access their community food banks are women who are having difficulty in meeting their daily needs in relation to feeding their family.
Michael McDonagh says when these women are doing their shopping, they are forced to make cuts and that usually means sanitary wear.
"They're not very expensive, but that's how bad it is out there", he says "it's literally cents and euros that are stopping people from purchasing products that are desperately needed for themselves".
Such is the demand for sanitary wear that in December 2016, the Homeless Period Dublin initiative was established with a view to helping women and girls who found themselves unable access to basic monthly sanitation and female hygiene products.
In 2017, the new general manager Claire Hunt launched a social media campaign to highlight the problem.
It became clear to her that the affordability of sanitary products was a national issue and so Homeless Period Dublin became Homeless Period Ireland.
HPI seeks donations of pads, tampons, liners and wipes which are picked up from drop off centres by volunteer drivers to Homeless Outreach Centres, Direct Provision Centres and Women's Refuges.
Hunt stresses that the HPI is an initiative, not a charity and is 100% reliant on volunteers for distribution and collection of sanitary products.
Homeless Period Ireland is not alone in its quest to help and highlight the difficulties for those experiencing period poverty.
Plan Ireland did a survey of 1,100 girls aged between 12 and 19 years last year, which showed that half of them found it difficult to afford sanitary products.
109 of them said they were forced to use a "less suitable sanitary product" because of the high monthly cost involved.

Its CEO, Paul O'Brien said they expected about 300 replies to the survey and were shocked that 1,100 women and girls took part.
He points out that many girls surveyed did not understand their period when it started and were stressed and suggests that the Government could make fair, independent and impartial advice available through schools.
In order for the Government to make that advice available, political awareness of the problem is necessary.
In the last two years, some Dublin councils have been pro-active on period poverty, by providing free sanitary products in their buildings including community centres, swimming pools and libraries.
However, politicians at a national level have been less vocal.
That will change next week when the cross-party group – the Women's Parliamentary Caucus - takes the historic move of putting its first motion forward for debate in the Dáil.
The theme will be period poverty.
The private members' motion will call for free sanitary products to women and girls in direct provision, homeless hubs and schools.
Sanitary products are provided in Direct Provision Centres, but they do not always meet the needs of all women.
That's where Homeless Period Ireland steps in.
Volunteers drop sanitary towels for heavier periods to some of the centres when they are contacted by the women inside.
When TDs get to their feet next week to discuss periods, it will be a unique occasion.
Following a trawl of the Dáil records, Chairperson of the Caucus and Green Party Deputy Leader Catherine Martin says periods and menstruation have only been mentioned 27 times in the last 100 years.
She echoes Plan Ireland and Homeless Period Ireland about the need for a biological norm to be openly discussed in the National Parliament.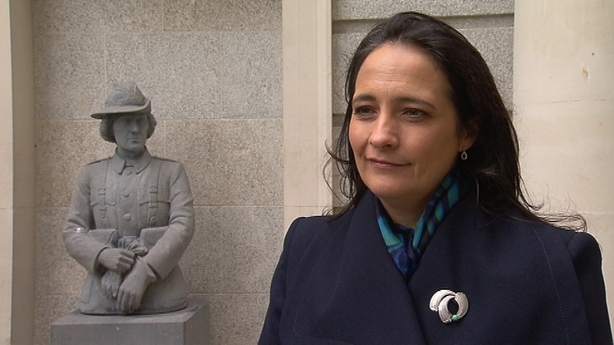 In the European Parliament, Sinn Féin MEP Lynn Boylan has been working to highlight the issue of period poverty and the quality of sanitary wear in Brussels.
Last week she called for an open debate in the European Parliament to provide safe affordable products to all women and girls.
Ms Boylan has been vocal over research conducted by national authorities in three EU Member States that found hazardous chemicals in sanitary products.
When she sought the debate on greater regulation of the products, she was blocked by the two largest political groups of the European Parliament.
She put it down to industry lobbying in Brussels.
Next week's Dáil discussion is likely to be far less contentious.
A debate on menstruation in the Parliament may be a rare event, but elected representatives are eager to remove stigma around the subject matter by bringing it into the public domain.