Minister for Housing Eoghan Murphy has said he is in negotiations with the Department of Public Expenditure and Reform about continuing the Government-backed Rebuilding Ireland Home Loan scheme.
He was responding in the Dáil to Opposition calls for clarification on the status of the initiative.
An internal document from the Department of Public Expenditure and Reform, released to RTÉ's Morning Ireland under Freedom of Information, revealed the scheme has been put on hold because it has run out of funding.
Speaking in the Dáil this afternoon, Mr Murphy said he had indicated that a second tranche of funding would be needed for this scheme when the first one expired.
He said that only half of the first tranche of €200m had been drawn down to date and, in some cases, loans had been approved but not drawn down.
Mr Murphy said the lag between an approval and a draw down was not necessarily on the local authority's side.
He said that in some cases it took time to find a home and complete a sale and this is where the delay can arise.
Earlier, the Taoiseach said the Government would consult the Central Bank about extending the €200m cap.
Leo Varadkar told the Dáil that 575 people had been helped to buy their first home through the scheme and a further 1,000 have been approved, but have not yet drawn down the funding.
He said the Government would consider increasing the €200m cap and consult the Central Bank as to whether it is comfortable with the Government offering more of these loans.
Mr Varadkar was responding to Fianna Fáil leader Micheál Martin, who said that low income families had been let down and their hopes raised and then dashed due to what he said was the "fanfare" of the Government.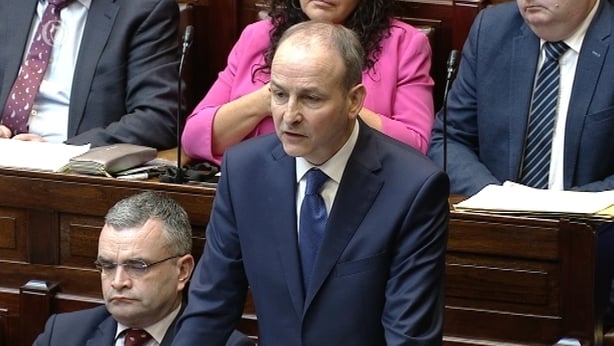 The briefing note said the Department of Housing "has been advised that no further approvals should issue for now".
The note added that demand has far exceeded expectations and a review is under way.
The Rebuilding Ireland Home Loan allows first-time buyers to borrow up to 90% of a property's value from their local authority.
Applicants have to show they have been turned down for mortgage approval by two banks. Gross earnings cannot exceed €50,000 for a single person or €75,000 for a couple.
When the loan was launched in February last year the target was to approve 1,000 loans over three years.
The department memo, dated 31 January, said that demand for the scheme has "far exceeded expectations" and that 1,550 recommendations for loan approvals have been issued since its launch.
In response to additional questions the Department of Housing confirmed that a further tranche of funds is required.
It said that it is in discussions with the Departments of Public Expenditure and Reform and Finance with regard to an extension of the scheme.
Dave Murphy from Dublin applied for the scheme in South Dublin County Council in November.
He is awaiting a decision on his application and told Morning Ireland it would be "devastating" if funding was not available.
He said: "We are both working full time but we can't get a mortgage from any of the main lenders. We earn too much for HAP or social housing.
"This scheme was a perfect fit on paper, but the reality is that you are left in a state of not knowing.
"We hope our application is already in the pile to be approved. But if there is no funding I don't know what we are going to do. We don't know where to go from here.
"My wife is back living in her mother's house with two kids. She is on a blow-up mattress on the floor. We have no home to call our own."
One of the largest local authorities in the country, Kildare County Council, confirmed last month that it was not approving any further loans until additional funding was confirmed.
Reporting by Louise Byrne and Aisling Kenny