A woman in Co Cavan has delivered almost 400 gift baskets to families of newborns with Down syndrome.
Sinéad Fidgeon co-founded charity, The Perfect Gift in 2016, after her own experience of having a child with Down syndrome.
Meet the woman sending baskets of love to parents of children with Down syndrome. pic.twitter.com/WX8i0j4aH5

— RTÉ News (@rtenews) February 21, 2019
"It was after my daughter Grace was born. She has Down syndrome. I found out when I was pregnant and the negativity started straight away. It was suddenly as if she was less and that hurts," said Ms Fidgeon.
The mother-of-five met Rachel Ní Chonaill through a Facebook group Rachel had set up called Down Right Perfect. Together they came up with the idea for The Perfect Gift.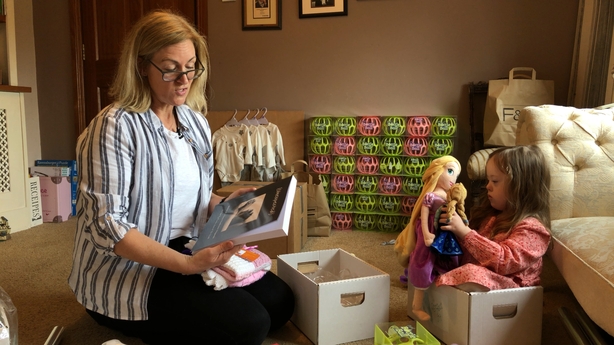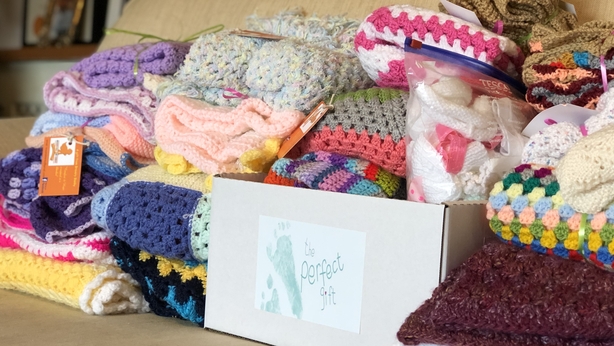 "The whole reasoning behind the basket was to say congratulations mum. You've just had a beautiful perfect baby and we're thrilled for you," said Ms Fidgeon.
The gift baskets are funded and filled through donations and crowd funding. They include books about raising children with Down syndrome, toys, clothes, candles and a letter.
"Each basket is individual. We write a letter to the mum congratulating her on the birth of her beautiful, perfect child. Then we invite them to the online support group, Down Right Perfect when they feel ready to do so," said Ms Fidgeon.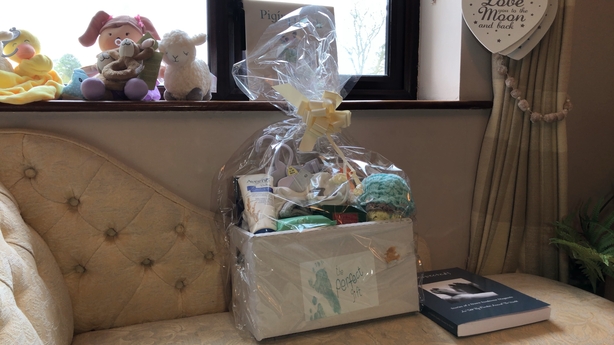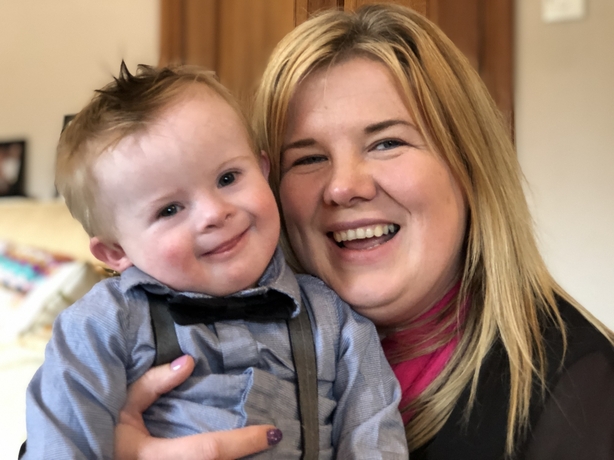 Annemarie Cassidy received one of The Perfect Gift's baskets when her fourth child Caolán was born with Down syndrome.
"[Sinéad] sent a message and it was a beautiful message. I remember reading it so many times. I was crying. I had my three other kids and every time they were born, it was 'oh my God, congratulations'.
"When Caolán was born everyone was afraid to congratulate me and that frightened me because I thought what is wrong with him? Why is he being treated differently? 
"The basket makes you feel like you are loved and there's somebody there that knows what you're going through. You're not afraid to ask questions. It makes the future so much brighter then," said Ms Cassidy.
The Perfect Gift delivers gift hampers to every county in Ireland.
"The odd time we do get a basket that stops me in my tracks. We had two last year that were delivered to homeless shelters. It certainly shocked me. The baskets have gone all over Ireland, to the 32 counties.
"It's somebody saying look we're here for you. You know, your life is going to be fantastic. We promise you that," said Ms Fidgeon.
We need your consent to load this rte-player contentWe use rte-player to manage extra content that can set cookies on your device and collect data about your activity. Please review their details and accept them to load the content.Manage Preferences