Beef farmers say they are struggling to stay in business due to a significant drop in the price they receive from meat processing factories.
In response over 17,000 beef farmers have joined the 'Beef Plan Movement,' a grassroots initiative aimed at securing better prices for the farmers through collective bargaining.
Organisers behind the initiative hope to eventually sign up over 40,000 beef farmers.
Meetings have been taking place across the country in recent weeks in an effort to recruit members.
In Co. Kerry last night over 400 farmers gathered in Castleisland Mart to voice their support for the Beef Plan Movement.
Chairperson, Eamon Corley said the aim of the movement is to have farmers acting as collective units in each county to negotiate better prices for their cattle.
"The problem is the individual farmer is powerless against the might of the big factory. The farmer has to take what he is offered. But if beef farmers can join together and work collectively we can negotiate a better deal with the factories." said Mr Corley.
"What we are getting for our animals at present is barely meeting costs. We are essentially slaves on our own farms. The future of the traditional family-farm is at stake." he added.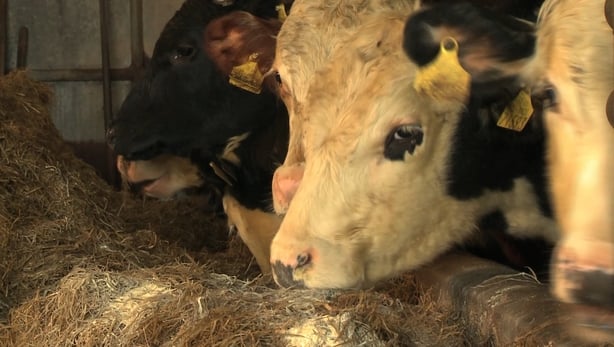 It is also hoped that purchase groups can be established allowing farmers to obtain better deals on items such as fertilizer, fuel and feedstuff.
Dermot O'Brien, an agricultural officer, said that factories are controlling the market through the practice of feed-lots whereby some of the country's biggest meat processors are fattening their own large herds resulting in a depressed market for the ordinary farmer.
"One fifth of all cattle slaughtered in this country at present are held in factory controlled feed-lots. The farmer just can't compete. It's controlling the market. It's a negative, anti-competitive practice that must be tackled." said Mr. O'Brien.
Meat Industry Ireland (MII), the body representing the meat processors said it had no comment to make.
The Beef Plan Movement says it will host similar meetings in other counties over the coming weeks.
The Irish beef industry is worth over €2.6bn annually, making it the largest single component of the State's food trade.