The commissioning ceremony of 77 new cadets is taking place in Dublin.
67 new Army officers and one Air Corps officer will graduate today, along with nine Maltese officers who trained in Ireland.
The men and women will take up junior leadership roles in the Defence Forces, while the Maltese Officers will return to the Armed Forces of Malta.
Following an ecumenical service at Christchurch Cathedral this morning, the cadets marched to Dublin Castle ahead of the official commissioning ceremony, which will take place this afternoon.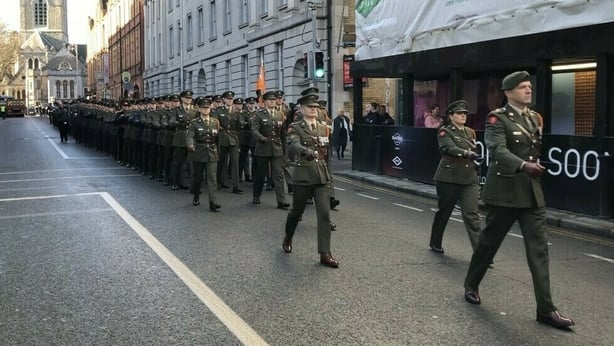 There was an Air Corps fly-past along Dame Street to coincide with the march.
Taoiseach Leo Varadkar and the Minister with Responsibility for Defence, Paul Kehoe, will attend the ceremony along with the Chief of Staff of the Defence Forces, Vice Admiral Mark Mellett.
The cadets represent the largest class of new officers being commissioned, while the ceremony is being held at Dublin Castle for the first time in the history of the State.
They have all completed a 15-month cadetship at the Curragh Camp in Co Kildare.
The new officers will take an oath of allegiance in which they will swear to be "faithful to Ireland and loyal to the Constitution".
The Maltese Cadets will receive a certificate of graduation.
There was an Air Corps fly-past as the 77 members of the 94th cadet class marched to Dublin Castle for their commissioning ceremony. 68 of the cadets will become officers in the @defenceforces. The other 9 are members of the Maltese Armed Forces, who trained here @rtenews pic.twitter.com/qhynRTLlIf

— Fergal O'Brien (@FergalOBrienTV) February 4, 2019