The reaction time of adults who died in the Carrickmines fire would have been affected by alcohol consumption, according to a pathologist.
Assistant State Pathologist Dr Margaret Bolster was giving evidence during the inquest into the deaths of ten people who died in a fire at a halting site in October 2015, which was believed to have been caused by a chip pan.
Those who died were Thomas Connors, 28, his wife Sylvia, 30, and their children Jim, five, Christy, three, and five-month-old Mary, Willie Lynch, 25, a brother of Sylvia Connors, his partner Tara Gilbert, 27, who was four months pregnant, and daughters Jodie, nine, and Kelsey, four, and 39-year-old Jimmy Lynch, another brother of Sylvia.
Dr Bolster testified that the five adult victims had alcohol levels ranging from 152mgs per 100ml of blood in the case of Ms Gilbert, to 224mgs in the case of Mr Connors.
She said 35mgs would be the equivalent to a pint or large glass of wine and that the deceased had approximately between four to six drinks each.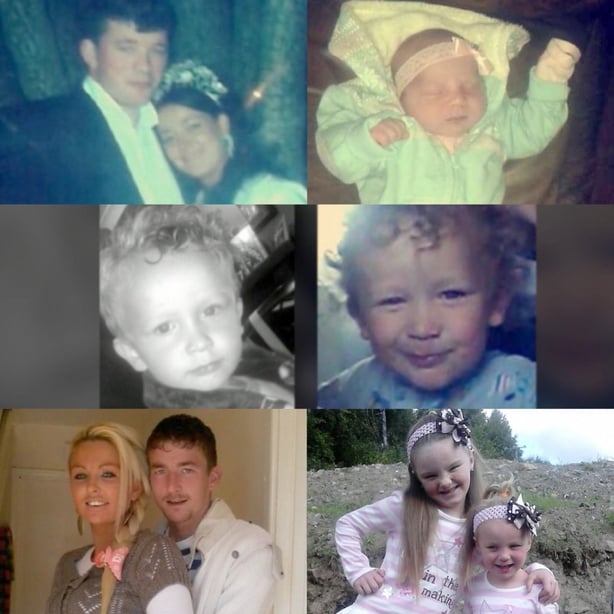 In answer to a question from the jury, Dr Bolster said that she had dealt with a large number of cases where acute alcohol intoxication played a part in fatal fires.
She said alcohol consumption in this case would certainly have delayed reaction time.
The ratio of blood to urine levels suggested that the alcohol had been consumed shortly beforehand.
The report also found that Thomas Connors and Willie Lynch had less than therapeutic levels of benzodiazepines, while Tara Gilbert had therapeutic levels of benzodiazepines and sleeping tablets.
In answer to City Coroner Dr Myra Cullinane, the pathologist said that Mr Connors had a large amount of recently ingested chips in his stomach and was the only one of the deceased to show this.
Dr Bolster said all the victims died from carbon monoxide poisoning which can be fatal in healthy adults at levels over 50%. The elderly and young children can die at lower levels.
She said the victims were dead or "deeply comatose" before the fire reached them.
She was asked by the coroner about the death of baby Mary, who was pulled from the portacabin by her uncle but was placed in another unit, which then also caught fire and the fire brigade had to carry out a "snatch rescue".
An aunt who carried her after she was taken from the first unit said she was breathing.
Dr Bolster said however on the balance of probabilities, death had resulted from the first fire as children under four years were especially vulnerable to smoke inhalation and had a high mortality even if taken alive from a fire.
Dr Bolster also said the post-mortem examination showed that Ms Gilbert was expecting a baby boy.
Later Superintendent Martin Fitzgerald told the inquest that gardaí submitted a five volume file to the Director of Public Prosecutions in September 2017 after investigating the possible criminal culpability of Dún Laoghaire-Rathdown council.
He said the DPP notified him in May 2017 there would not be a prosecution.
Dr Cullinane told the jury of eight men and four women that all witnesses had now given evidence that she would be summing up the evidence tomorrow.