The Capuchin Day Centre in Dublin handed out more than 2,700 food parcels to people in need today, a slight increase on last year.
Queues began forming early this morning at the centre on Bow Street.
The charity has been handing out food parcels for Christmas since the late 1970s and has seen demand treble in recent years.
Last year, 2,700 hampers were distributed.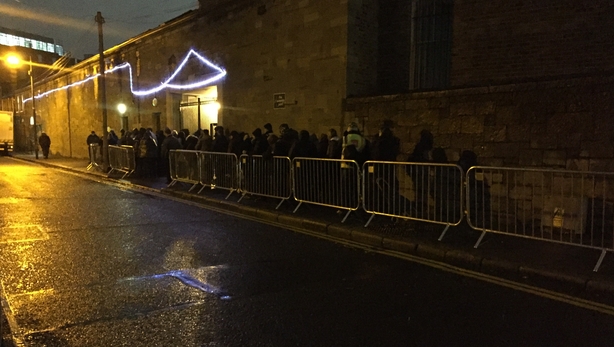 The number of homeless people in Ireland is at a record high, according to Focus Ireland.
Advocacy manager Roughan McNamara said a shift in policy is needed to tackle the crisis.
The latest figures from the Department of Housing show that 9,968 people are homeless, including 3,811 children.
Speaking on RTÉ's Morning Ireland, Mr McNamara said that while there have been some positive moves, Government policy is not working.
He said: "We need to look at the overall trend in the figures, we're now just under 10,000 people homeless with a few days left to Christmas and the figures have only been going one way in recent years, and that's up".
President Michael D Higgins has said the homeless situation in Ireland grieves him greatly and a radical approach is the only option.
In an interview to be aired on RTÉ Raidió na Gaeltachta tomorrow, President Higgins said: "It grieves me to think about those who are homeless, those on the streets.
"We can't continue to accept things as they are, I believe that we must do something radical."