RTÉ has published the fees earned by its top ten highest-paid presenters, with Late Late Show host Ryan Tubridy once again at the top on €495,000.
He is followed by TV and radio presenter Ray D'Arcy on €450,000, which is an increase of €50,000 on 2015.
The rest of the top ten is completed by Joe Duffy, Sean O'Rourke, Marian Finucane, Miriam O'Callaghan, Claire Byrne, Bryan Dobson, George Hamilton and Mary Wilson.
The figures cover earnings for 2016, and as in previous years, are published two years in arrears.
RTÉ said the latest earning figures demonstrate a reduction of 32%, as compared to fees earned in 2008.
RTÉ Director-General Dee Forbes said: "The audited figures released today for 2016 sees RTÉ maintain our commitment to reduce these earnings by 30% as compared to 2008 levels, while continuing to value the significant contribution our presenters make, and to RTÉ's ability to optimise commercial revenue to support Ireland's public media.
"This will continue to be an area of focus for me. Within a challenging marketplace and in the absence of meaningful funding reform, we are making significant efforts to reduce costs across the organisation, in addition to the considerable reduction in operating costs implemented since 2008."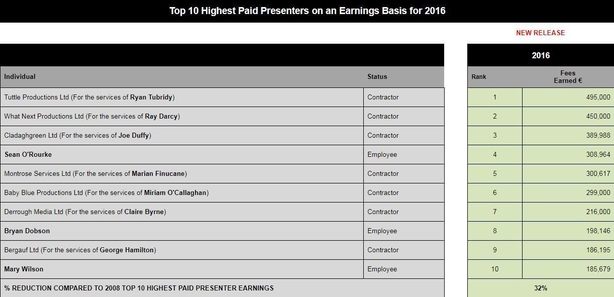 RTÉ said the total top ten presenter earnings for 2016 represented less than 1% of RTÉ's total operating costs for the year and less than 2% of total personnel related operating costs.
Employee earnings include salaries and employer pension contribution, while earnings for contractors represent fees payable excluding VAT.
The list features eight of the same presenters from the previous year.
Ms Wilson and Mr Hamilton were not on the 2015 list, while Nicky Byrne and Darragh Moloney who featured in 2015, do not make the top ten for 2016.