British Brexit Secretary Dominic Raab has reiterated that the British government would not sign up to anything "that would threaten the economic, the constitutional, let alone the territorial integrity of the United Kingdom".
Asked twice by the BBC whether it had ruled out any new regulatory checks at the Irish border, he said: "We are engaged in a negotiation process."
He added: "We have made it very clear that whether it is the customs regime for the UK as a whole, or the wider economic integrity of the UK as a whole, we will not allow any proposals to be accepted that would jeopardise that, and that is the crucial thing here.
"We're confident we can get a good deal... good for every community here in Northern Ireland" - #Brexit Secretary Dominic Raab after Belfast visit https://t.co/xNfD0IwZ2Q pic.twitter.com/CQd2IiVhZL

— BBC Politics (@BBCPolitics) November 2, 2018
"Of course we want to maintain frictionless trade with our EU partners, but the internal market within the UK is absolutely crucial too.
"They are not binary choices, we want to preserve both and also enhance and increase our opportunities for global trade which would be good for the UK and good for Northern Ireland too."
It comes as Tánaiste and Minister for Foreign Affairs Simon Coveney and Britain's Cabinet Office Minister David Lidington said they "hoped and expected" that Brexit negotiators would secure a final agreement in the coming weeks.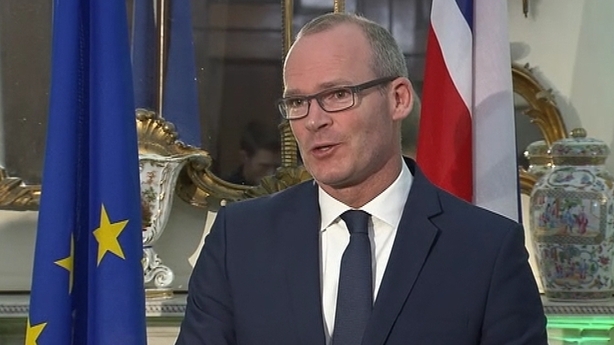 Mr Coveney said he thought it was possible to secure a deal this month, however, he added that this would require some movement by the British side to find a legal wording that can be sold politically on both sides of the Irish Sea and that negotiators were not there yet.
He was speaking after he and Minister for Justice Charlie Flanagan welcomed Mr Lidington and Secretary of State for Northern Ireland Karen Bradley at a meeting of the British-Irish Intergovernmental Conference (BIIGC) in Iveagh House.
Both Mr Coveney and Mr Lidington said that they were very close to resolving differences.
Mr Lidington said the British government was committed to getting over final difficulties in talks as quickly as possible.
We need your consent to load this rte-player contentWe use rte-player to manage extra content that can set cookies on your device and collect data about your activity. Please review their details and accept them to load the content.Manage Preferences

He said there had been positive movement in the last few weeks and the UK government would stand by commitments it had given on the issue of the border.
He added that it would be more difficult to resume power-sharing in Northern Ireland while the issue of Brexit was still unresolved.
Neither minister gave details of how they were going to break the impasse over the border, which has prompted fears that Britain could leave the EU without a deal next March.
Established under the Good Friday Agreement in 1998, the BIIGC focuses on bilateral agreement between the two countries.
It comes as DUP leader Arlene Foster said the UK and EU were close to a Brexit deal that would work for Northern Ireland.
"Goodness, we have been here on a number of occasions and I think we are close to a deal that will work for Northern Ireland, that is what we want," she told reporters after meeting Mr Raab.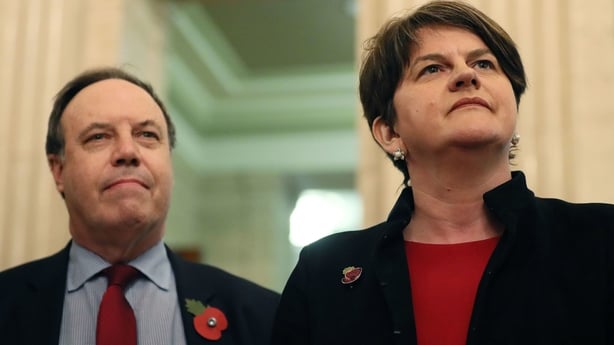 Ms Foster said she reiterated to Mr Raab her party's opposition to any additional checks between Northern Ireland and the rest of the UK.
A delegation from her party, including North Belfast MP Nigel Dodds, MEP Diane Dodds and South Belfast MLA Christopher Stalford, met Mr Raab at Stormont House this afternoon.
Ms Foster said her party made it clear to Mr Raab that "from the constitutional point of view but also from an economic point of view that it is very important that as well as not having any customs barriers, we cannot have any regulatory barriers".
"I am glad that he took the chance to visit the ports today because he would have been able to see what happens at the ports," she said.
"We are engaged in an ongoing process, we want to be as helpful as we can in these negotiations, we want to get a deal on exiting the European Union that is good for Northern Ireland and it can only be good for Northern Ireland if we remain a full part of the United Kingdom."
Meanwhile, Sinn Fein president Mary-Lou McDonald said she had a direct meeting with Mr Raab during which she warned him not to act "recklessly".
The party's leader in Northern Ireland Michelle O'Neill was also in the delegation that met Mr Raab.
"We had what I would describe as a very direct meeting with Dominic Raab. We have again set out for him in the plainest of terms the necessity for a backstop that protects the basic economic, social and political well being of the island of Ireland," Ms McDonald said.