Tipperary County Council has categorically denied any agreement was made to provide accommodation for horses at six new homes they built for members of the Travelling community near the town of Thurles.
At a meeting of the council this afternoon, it was confirmed that further talks and negotiations will take place with the residents who are due to move into the houses to try and resolve a dispute that is underway. 
The council stated its position after a group of families said they would not be moving into a €1.7m development of new local authority houses, unless stables and land were provided for their horses at each house.
The dispute has arisen at Cabragh Bridge outside Thurles, Co Tipperary, where members of an extended Traveller family have lived for about 50 years.
Tipperary County Council have more than 900 people on the housing waiting list in the Thurles area, but this site at Cabragh Bridge has been the home of members of the Travelling community for decades, and local Travellers say there is an agreement in place for six and a half years to build stables for them on the site.
"They were to be built with a half-acre behind each house, with two stables," said Philip McCarthy, one of the residents at Cabragh Bridge.
"They [Tipperary County Council] changed it to a group project, like a mini-housing estate ... The agreement was two stables and a half an acre for the horses, but they never came up with that."
Mr McCarthy, who is in his 40s and has lived in the area all his life, said the council made the original agreement with his late father, William McCarthy, over a decade ago.
However, the council has denied any agreement.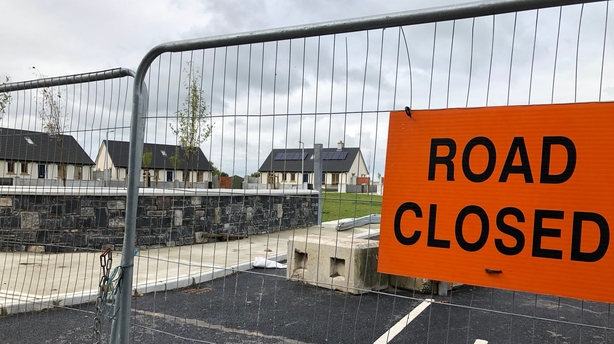 The development of the detached houses, with concrete walls to the rear, wooden fencing and a stone wall at the front, took over two years to build at a cost of €1,718,670, plus VAT.
The houses - two five-bedroom and four three-bedroom properties built on a site opposite the families' "temporary" settlement - are all but complete but for some minor issues that have to be resolved by the building contractor.
However, the families living across the road said they will not be occupying them unless two stables and at least half an acre of land is included behind each dwelling for their horses.
"Our livestock is our culture, and a big, big part of our life," Mr McCarthy said.
"We'll have to come to some sort of agreement, because otherwise it's no good to us. We have paddocks here and stables and stuff, which is not across the way [in the new development].
"It's a beautiful project and we're happy with the project, but there's no room for the livestock. That's what's holding us up at the moment.
"They want us to drop our culture and throw it aside. It's a very, very hard thing for us to do. It's in our life, we're going back centuries."
We need your consent to load this rte-player contentWe use rte-player to manage extra content that can set cookies on your device and collect data about your activity. Please review their details and accept them to load the content.Manage Preferences
Tipperary County Council said it is waiting on the contractor to finalise some outstanding issues with the construction.
It added: "The council is also seeking vacant possession of the existing unauthorised site and is in discussion with the families in respect to same."
Asked if there is any sign of the houses being occupied, the council said: "Discussions are taking place amongst the parties with a view to resolving the matter at the earliest possible timeframe."
Mr McCarthy and another resident of Cabragh Bridge, who did not want to be named, both said that their solicitor was currently dealing with the problem.
They both said that there are up to 12 horses adjacent to their dwellings at any one time.
They estimated that about "50 or 60" people are currently living in the mobile homes and caravans at Cabragh Bridge, opposite the new houses.
The matter is likely to be raised at today's meeting of Tipperary County Council in Nenagh.