The waste industry is in danger of being controlled by a small number of unregulated operators, according to the Competition and Consumer Protection Commission.
The commission has recommended the establishment of an economic regulator with a "robust legal framework" to oversee the industry.
In its report, The Operation of the Household Waste Collection Market, the commission found that the waste industry is failing to provide competition for the consumer, despite different companies being allowed to operate on the same routes. 
Commission chairperson Isolde Goggin said: "In theory, side-by-side competition should allow for multiple suppliers and consumer choice.
"However, in reality, the domestic waste collection market in Ireland is highly concentrated and becoming increasingly so.
"As a result consumers have little or no power to influence the behaviour of operators in this market." 
The report states that the number of operators has fallen significantly and that at least 18% of households have no choice of operator, while 23% do not have any at all.
It warned: "The market is moving towards a service provision of unregulated monopoly operators."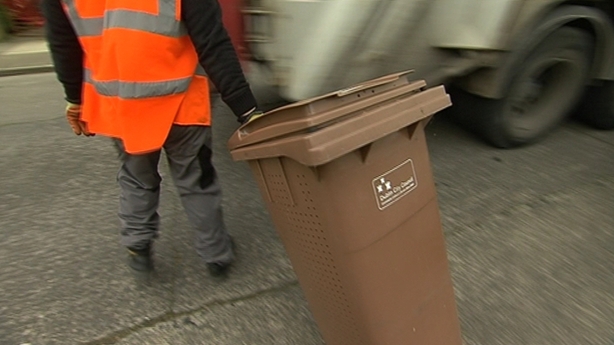 The report also says policy targets are not being met, as it took 19 years to abolish flat rate fees and brown bins were still only available to half of all households in 2016.
It recommends that the waste regulator be allowed to introduce competitive tendering for certain areas, impose fines and introduce price controls in some circumstances.
The report was requested by Minister for the Environment Denis Naughten who had initially resisted setting up a waste regulator.
However, following controversy over the scrapping of flat rate fees last year, he agreed to a Fianna Fáil demand for a Pricing Watchdog Monitoring Unit to prevent price gouging.
The study by the Competition and Consumer Protection Commission (CCPC) was also part of that agreement.
Minster for Communications, Climate Action and Environment Denis Naughten welcomed the CCPC's "hybrid" approach in having some areas remaining in free competition "within the market" while other areas could be restricted through competitive tenders.
"The hybrid model suggested could help to extend the coverage of door-to-door collections nationwide, while ensuring value for money for the householder and providing certainty for investment by the waste sector". 
He pointed out that the report had agreed with the decision to phase out "flat fee" collections.
Conor Walshe of the Irish Waste Management Association argued that the current market is working "very very effectively" for the consumer.
He pointed out that the price of waste collection per household in Dublin was €368 a year when under local authority control but now €228 in the competitive market.
He said any change in the market would see prices going up.