Research commissioned by the GAA and the Gaelic Players Association shows that players' senior inter-county commitments can take up up to 31 hours of their week and lead to them compromising other aspects of their lives.  
The Economic and Social Reseach Institute's report - based on interviews and workshops with 1,037 players - examines how the demands of playing inter-county affects players' personal and professional lives, and their club involvement.
The report - 'Playing senior inter-county Gaelic games; Experiences, realities and consequences' - finds that players got less sleep, had a higher injury rate, and have poorer mental health than the general population.
They also say that too much effort is demanded of them and that time away from family and friends was a downside of playing at this level.
The benefits they identified from playing included the opportunities to build leadership skills, self-confidence and professional connections.
On average during the 2016 championship, players allocated just over six hours on a weekday pitch-based training day to their inter-county commitments.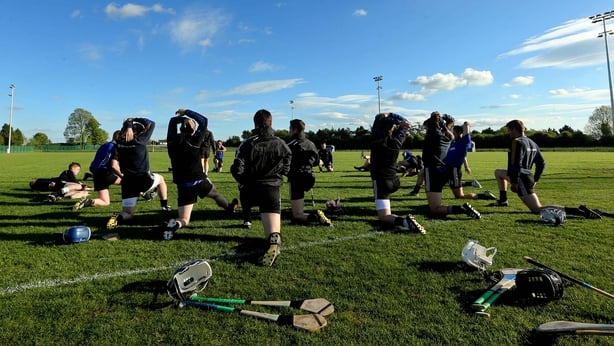 On a sports-conditioning training day the average time spent varied between 4.4 hours and and 5.4 hours. 
Players managed to maintain their professional commitments in tandem with their inter-county career, but only by sleeping less and devoting less time to personal relationships and general downtime.  
40% of players had no time off from Gaelic games during 2016. 
Getting to spend less time with their family, partner and friends was identified by 77% of players as the main downside of playing inter-county. 
GAA President John Horan said the organisation does not take the commitment of inter-county players lightly.
He said in a statement: "Significant improvements have been made to ensure that inter-county player welfare is an integral element of our partnership with the GPA and our promotion of Gaelic Games."
He added: "In addition, we have undertaken a review of our games programme with a view to improving the club to inter-county balance, and also the games to training ratio, and believe this will also be of benefit to players."
The Chief Executive of the GPA, Seamus Hickey, said "the findings validate the GPA's long held view that while it's an enormous privilege and honour to play at senior inter-county level the demands on players that come with it are enormous and growing."
"The fitness levels, the injuries, the time commitment and the impact on players' careers from playing at this level are huge," the Limerick man said.