The Taoiseach has said that the Government does not have any plans to introduce a ban on filming or photographing gardaí as this would be a "restriction on free speech" and it is not something he could support.
Leo Varadkar was responding to Solidarity/People Before Profit TD Richard Boyd Barrett during robust exchanges at Leaders' Questions.
Mr Boyd Barrett paid tribute to the "magnificent" Take Back the City protests, where mostly young people have "highlighted the obscenity" of the Government's housing policy which, he claimed, is reliant on developers and vulture funds to address the housing crisis.
Last week, protesters demonstrated over the eviction of people from a building that was subject of a repossession order.
The Take Back The City group said it held the protest in support of five people arrested during the repossession of the property at Dublin's North Frederick Street.
Speaking in the Dáil, Mr Boyd Barrett said the protesters are demanding a change in policy where they are saying "stop selling public lands to vulture funds and speculators, start an emergency programme to build social and affordable houses on public land, introduce rent controls and adopt robust aggressive measures to go after the owners of empty properties where there is no justification for leaving properties empty."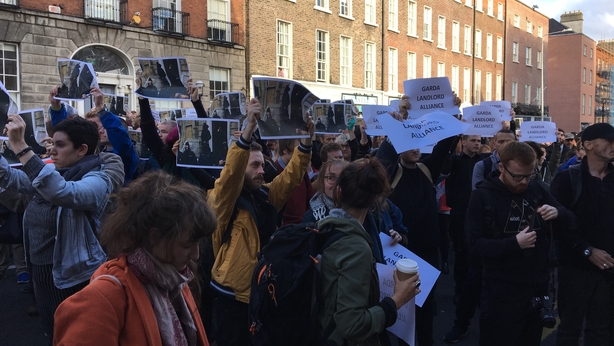 He was critical of the "paramilitary policing methods" used against young protesters last week.
He also asked the Taoiseach if he would reject the suggestion that gardaí should no longer be recorded "in the conduct of their duties".
Mr Varadkar said that protests will not build houses and Government and the private sector will build houses to solve the problem.
He also said that protests are welcome and are a healthy part of democracy.
The Taoiseach said: "There are no Government proposals to restrict people from taking photographs or making videos.
"That would be a restriction on free speech and not something that I would support. I want to reassure people of that - press photographers, individual citizens, protesters. There are no proposals whatsoever to do that."
He also called for the condemnation of abuse of gardaí, including anyone who attempts to intimidate them online.
Mr Boyd Barrett said he condemns "any threat or use of violence by anybody against anybody."
McVerry supports 'take back the streets' protesters
Earlier, homeless campaigner Fr Peter McVerry said he supports protesters who have taken over a number of vacant properties in Dublin.
Speaking on RTÉ's Today with Sean O'Rourke, Fr McVerry said he would rather see the Government taking over these buildings but said the protesters were highlighting the failure of the Government to address the issue of vacant properties and homelessness.
He said that while he supports the protests, he abhors all violence.
"It's totally unacceptable and counterproductive, because the focus for the last few days has been on the violence surrounding the eviction of those who were occupying the building.
"The focus shouldn't be on the violence, the focus should be on the failure of Government policy to address this issue."
He said this occupation "is arising out of total frustration; people frustrated at the absurdity, indeed the obscenity, of empty buildings with nobody in them, while people are looking for buildings to live in.
"That's the frustration. The Government should be taking over these buildings, not the protesters."
Fr McVerry criticised the repair and lease schemes for vacant properties, and said not enough property owners were availing of the schemes as they were not attractive enough.
He criticised local authorities for not using Compulsory Purchase Orders in these circumstances and said Government had no problem using such orders when they wanted to build motorways.
Fr McVerry re-iterated his call for it to become illegal for banks, vulture funds and landlords to evict people into homelessness. He said this could be done for a period of three years and that it would not destroy anyone's lives.
Minister of State for Housing Damien English condemned the behaviour of protesters occupying vacant properties.
Speaking on the same programme, he said it was criminal activity and described it as "disgraceful".
In response to comments by Fr McVerry, Mr English said no one should be encouraging such behaviour.
He said protesters would be better off engaging with and promoting schemes that help identify vacant properties and bring them back into use.
He added that CPOs had been used in some cases and had been successful. However, he said it was a very complex and expensive process for local authorities.
Minister English disagreed with Fr McVerry in relation to repair and lease schemes to bring the properties back into to use and added that many grants were available and that it was wrong to say Government interventions were not working.
He also said that people should not encourage the occupation of vacant properties.
Two-year ban on rent increases proposed by Social Democrats
Meanwhile, the Social Democrats have proposed a two-year blanket ban on landlords raising rents.
Co-Leader Róisín Shorthall said they believe it should be illegal for rents to be raised from their current levels.
She said she did not believe the move would drive landlords out of the market, because she said they were getting a good return on their properties at present.
On the illegal occupation of private building by protesters she said her party does not support breaking the law.
However, Ms Shortall said she understands young people wanting to bring attention to the housing crisis, saying housing would be the standout issue in the Dáil in coming months.
Call for 'bold and urgent action' on housing
During Leaders' Questions, Sinn Féin's Mary Lou McDonald called for "bold and urgent action" including a temporary tax relief for renters where existing renters would have their rents frozen for three years.
She said this would be a partial response to the crisis and she asked if the Government would introduce a rent freeze.
Taoisesach Leo Varadkar said the concerns are shared on the Government side and they are aware of the predicament people find themselves in.
He said that a solution has to be to increase supply. He said that 4,500 new homes were built in the last quarter and he said that it is anticipated that about 20,000 new homes will be built this year.
He said that nobody can doubt that the country is on the right trajectory.
He acknowledged that the country needs about 30,000 to 35,000 homes every year and it needs to get to that level.
He said he would consider the Sinn Féin proposal but it would not increase the supply and he would need to know what the cost of the proposal would be.
The Taoiseach said that it is his view that protests should be peaceful, in accordance with the law and should respect the authority of gardaí.
He said that there is evidence that rent pressure zones are working and rent controls do work for people in rent controlled properties but there are unintended consequences as it can be more difficult for people to enter the rental market.