A record number of children and families turned to Barnardos for help in 2017, according to the charity's annual report published today.
In 2017, Barnardos provided support to more than 15,300 children and families across Ireland - the highest number ever in one year to be helped by the charity.
It said 44% of the children who required support were aged between six and 12 and 35% were aged five and under.
The number of referrals to the charity in 2017 also increased by 10% on 2016.
The reason for referrals ranged from child welfare concerns, behavioural needs, parenting skills need and child protection concerns amongst others.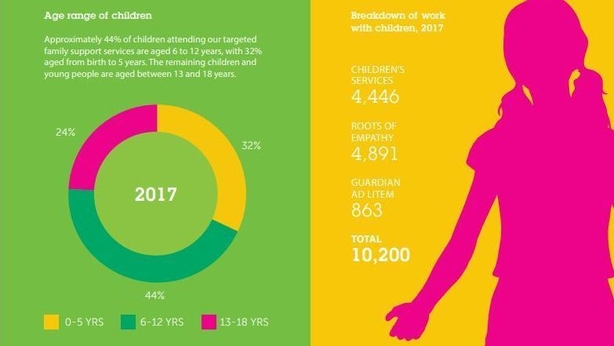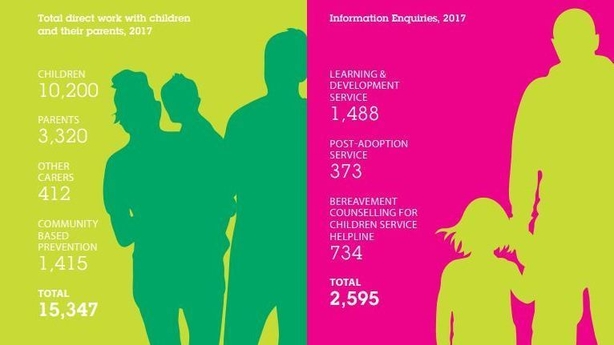 The 2017 figure brings the total number of children and families helped by the charity in the last ten years to 86,585.
Barnardos provided practical and emotional supports to children and parents in its 40 centres, in families' own homes, through the school environment and within their communities.
Outgoing CEO Fergus Finlay said throughout his 13 years with Barnardos he had seen countless things that could only be described as heartbreaking.
"What I have also seen however, is unwavering dedication to the children and the families we work with, and a drive to provide the best opportunities and possibilities for the children in our care," he said.
Mr Finlay has called on Minister for Finance Paschal Donohoe to "childproof" next month's Budget and begin making investments to stop the cycle of child poverty.
We need your consent to load this rte-player contentWe use rte-player to manage extra content that can set cookies on your device and collect data about your activity. Please review their details and accept them to load the content.Manage Preferences
Speaking on RTÉ's Morning Ireland, he said the number of children experiencing child poverty has risen by thousands over recent years because of public policy neglect.
He said for many years there has been no investment in the services that children need, particularly in early years education.
Mr Finlay acknowledged the "heroic efforts" by the Minister for Children to change this situation, but said more needed to be done.
Speaking this afternoon, Mr Finlay said Irish governments have failed to break the cycle of poverty.
He said the charity helps children and families with a wide range of issues, many of which are not caused by poverty but all of which are made worse by it.
He added that governments have failed to acknowledge, let alone reverse, the cuts imposed on the community and voluntary sector.
Mr Finaly said it annoyed him to hear politicians say there are too many charities in Ireland while never speaking of how much they are relied upon.
Barnardos Director of Children's Services Suzanne Connolly will take over from Mr Finlay following his retirement on 4 October.