An event to mark the 50th Anniversary of the aid agency, Concern, has heard that greater international cooperation is needed to deal with conflict, famine and mass migration.
Prominent humanitarians and public figures, including former US President Bill Clinton, addressed the Resurge 2018 conference at Dublin Castle today.
In an address that recalled the lessons of the Irish peace process, Mr Clinton called for a form of national pride that respected difference.
Mr Clinton also said that the ongoing negotiations around Brexit were hampering the restoration of Stormont, as politicians do not know what the terms of the withdrawal agreement will be.
"We all have things we should be proud of, you can't wipe away identity because you have to identify reality in forms" but it hadn't get in the way of recognizing common humanity @BillClinton #Resurge2018

— Colm Ó Mongáin (@colmomongain) September 7, 2018
.@BillClinton thanks @Concern & jokes 'we may need you more than ever in the US soon'.

— Colm Ó Mongáin (@colmomongain) September 7, 2018
Mr Clinton said: "If you were a Northern Irish politician you probably wouldn't want to go into government either if you didn't know the details of Brexit and how it will affect Northern Ireland or how it will affect the relationship between Northern Ireland and the Republic, because how would you know what the terms of the agreement would be.
"There are still cranes up in Belfast and nobody wants to go back to the bad old days, so I think everybody should take a deep breath, and keep working.
"It's almost impossible to solve real problems if there is no basic trust.
"If people are smart enough to realise that you didn't have to have a document that would solve every problem, that would permit some solutions to emerge.
"The most important thing to me is that the Irish peace process and the work of Concern is rooted in both our common humanity and our notion of what I call inclusive tribalism."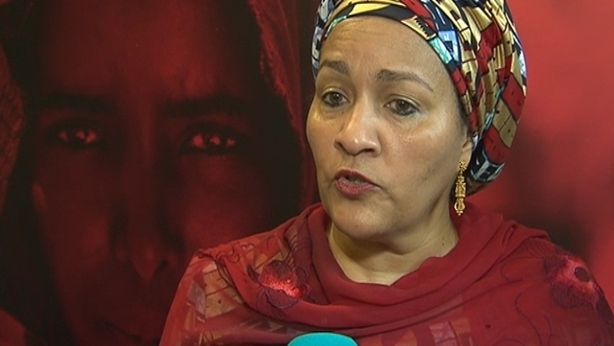 Arms sales by wealthy countries to countries at war was referenced by President Michael D Higgins, who singled out the five permanent members of the United Nations Security Council - the UK, the United States, China, France and Russia - for particular criticism.
But the overwhelming call from humanitarian workers and UN spokespeople was the need for coherent international action in a climate of closing borders and rising nationalism.
Other speakers at today's conference included the UN deputy secretary-general Amina Mohammed and the UN's humanitarian adviser on Syria Jan Egeland.
It has been 50 years since Concern was founded during the war in Biafra.
Its work to supply medicines and aid to refugees affected by conflict has continued since.