A session at the World Meeting of Families on safeguarding children and vulnerable adults in the Catholic Church has been told that there is still considerable denial about the extent and nature of clerical sex abuse in many countries.
The session at the Pastoral Congress was chaired by Baroness Sheila Hollins, a former member of the Vatican's Child Protection Commission.
Ms Hollins paid tribute to the work of abuse survivor Marie Collins, who also addressed the session this morning.
Ms Collins - who also worked on the Vatican's Child Protection Commission - told delegates that Canon Law had been used to protect and not punish offenders.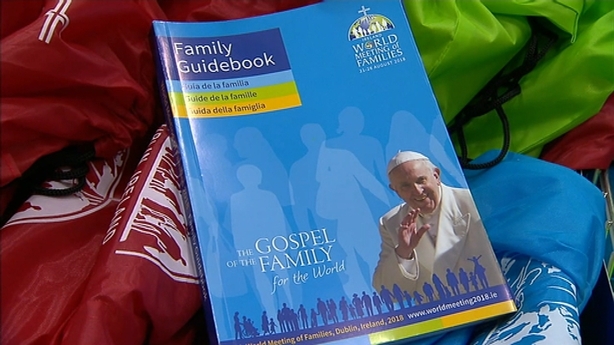 She said there were still people in the church who believed that the issue of abuse was a media conspiracy, and that survivors were out to destroy the church.
She appealed to them to put their energies into effecting change, rather than denial.
Abuse survivor Marie Collins said there are still people within the church who believe the issue of abuse was a media conspiracy | Read more: https://t.co/jDgWrlR4kO pic.twitter.com/aXKmwymCuC

— RTÉ News (@rtenews) August 24, 2018
Ms Collins said that anyone in Vatican who stands in the way of proper protection of children should be held accountable and removed of their titles, or the church if necessary.
She also called for the removal of the statute of limitations, which would allow survivors of historical abuse receive justice.
Barbara Thorp, a former Head of Child Protection in the Archdiocese of Boston, said the crimes revealed by the recent Grand Jury report in the US tore at the heart of every mother and father at the failure of church to protect children.
Ms Thorp also described the issue as a "raging fire within the church", and said some leaders had shown "callous indifference".
Ms Hollins paid tribute to survivors who had come forward and reported abuse.
We need your consent to load this rte-player contentWe use rte-player to manage extra content that can set cookies on your device and collect data about your activity. Please review their details and accept them to load the content.Manage Preferences
She said she would be suggesting that Pope Francis should make it mandatory for bishops to take action.
She also appealed to the church laity to also get involved in effecting change, adding that it should not all be left to survivors.
---
Read more: Pope Francis in Ireland
---
Meanwhile, Archbishop Diarmuid Martin has said "there are people who have drifted away from the church" and the message of Jesus Christ. However, he said that a "residual attachment" remained to the church through marriages and christenings.
Archbishop of Dublin Diarmuid Martin speaks to @RayKennedyHack ahead of the visit by Pope Francis. Watch the full interview tonight on the RTÉ Nine News #PopeInIreland pic.twitter.com/QfMiqk8b5Z

— RTÉ News (@rtenews) August 24, 2018
He said that not only did he hand over documentation to various inquiries about abuse, he read it too and met survivors, saying "anger" was the dominant emotion he felt; "anger that these people had to suffer".
He said in relation to the catalogue of abuse it was "only when the truth comes out" that you can begin to rebuild, adding "you can't rebuild on falsehoods or emptiness".
He said generally there is an "unease" across the church about how it once dominated people's lives.
Speaking of the Pope's visit, he said there was a feeling "this Pope" may be able to say something not just to the Irish church but also to Irish society about where it may be going".
Dublin City Council has said it is satisfied that the Pope's visit will not have an adverse, negative effect on the city's homeless.
Speaking on RTÉ's Morning Ireland, Brendan Kenny, Deputy Chief Executive Dublin City Council, said no families had been removed from accommodation to make away for the influx of visitors into the city.
"We're absolutely satisfied that this event won't have any adverse, negative effect on the homeless situation in Dublin," he said.
"Unfortunately there are 1,300 families in emergency accommodation in Dublin at the moment, none of those families will have to move at all. If a family has to move for some other region we will find alternative accommodation for them in the Dublin area."
Clerical abuse victims call for zero tolerance approach
Clerical abuse victims have called for a zero tolerance approach to be taken against priests involved in the sexual abuse scandals.
A global survivors group also proposed a list of abusive priests be made public in an effort to protect others.
Members of the Ending Clerical Abuse (ECA) group - aimed at holding the Catholic Church to account for clerical sex abuse - gathered in Dublin today to recount their abuse stories on the eve of the Pope's visit to Ireland.
The group also wants a no tolerance approach to be adopted against any bishop involved in the cover up of child sex crimes.
"Here is a simple axiom of justice: It's not okay to cover up for child sex crimes," ECA founder Peter Isely said.
The survivors criticised the Pope's child protection commission and said new leadership was needed before any reforms would be made.
Mr Isely said the commission had failed to deliver any meaningful reform since it was formed four years ago.
The Pontifical Commission for the Protection of Minors was set up to investigate clerical sexual abuse.
It is headed by Archbishop of Boston Sean O'Malley, who was scheduled to speak at today's World Meeting of Families session on safeguarding children and vulnerable adults, before pulling out.
Mr Isely said: "It's pretty clear that the commission and this mechanism has failed, it has simply failed."