Nearly 700 complaints were made last year to the Health Information and Quality Authority relating to the care of elderly residents staying in nursing homes.
Documents released under the Freedom of Information Act reveal some of the disturbing details of the complaints made by family members, staff and residents.
Some of the complaints relate to assaults, sexual assaults, and filthy conditions.
Others concerned lack of food, inadequate care, financial abuse, and general lack of care or compassion for nursing home residents.
The making of a complaint does not necessarily mean the allegation is true.
There were 18 complaints made in relation to deaths which occurred in nursing homes.
Details of the complaints were released to Fine Gael TD Fergus O'Dowd.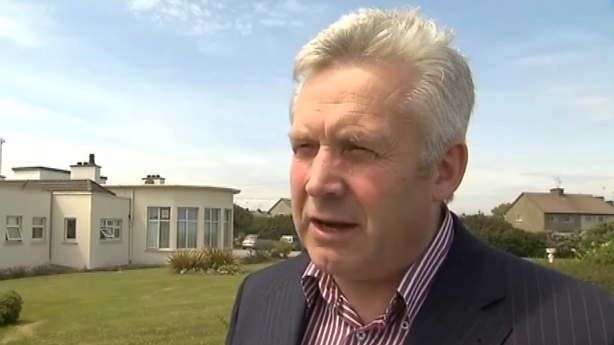 They show that of the 680 unsolicited complaints made to HIQA in 2017, 134 related generally to lack of care or compassion.
Fifty-seven complaints related to falls and serious injuries; 46 complaints concerned inadequate or insufficient staffing at the facilities housing the elderly residents.
There were 19 complaints made on behalf of residents living in filthy conditions, and ten complaints of financial abuse.
Eight complaints were made in relation to assaults, and five in relation to sexual assaults.
We need your consent to load this rte-player contentWe use rte-player to manage extra content that can set cookies on your device and collect data about your activity. Please review their details and accept them to load the content.Manage Preferences
In response, HIQA said it is not legally permitted to investigate individual complaints.
However, it said the concerns received by HIQA are used to inform its inspection and monitoring processes, and where appropriate the information is passed on to the relevant bodies such as An Garda Síochána and the Health Service Executive's National Safeguarding Office.
HIQA said there were legislative shortcomings around the protection of vulnerable adults. In a statement to RTÉ's This Week, the authority said this legislation is essential to ensuring that the State protects its vulnerable citizens and that cases of abuse and neglect are addressed.
This is a piece of legislation which does two things - it provides for mandatory reporting where an adult has suffered abuse or harm, or is at risk.
And it establishes a national adult safeguarding authority which would be required to respond if significant concerns are reported, and would be given the power to investigate.
This piece of legislation is currently before the Seanad - and it seems unlikely it will be passed any time soon.
In relation to serious complaints, which are reported to HIQA - and which might constitute a criminal offence - HIQA says these are routinely reported to gardaí.
It said it would be seeking to progress a new memorandum of understanding between HIQA and gardaí to allow the sharing of information in relation to complaints and individual concerns.
The authority said it carried out 600 inspections last year, visiting almost 90% of all centres, and found that 27% were fully compliant.
This represented almost a doubling of compliance rates from the previous year.
In a statement released this evening, the HSE said: "The HSE has Safeguarding Teams in each of the nine CHO areas across the country and operate specifically to safeguard and protect vulnerable adults.
"These safeguarding teams will endeavour to support the circumstances of a vulnerable person who is the subject of suspected abuse regardless of where they live.
"Any complaint is investigated under the recently updated Your Service, Your Say, which the HSE collaborated with the Office of the Ombudsman.
"If the complaint involves allegation of abuse or mistreatment by a HSE staff member, a specific HSE protocol referred to as 'Trust in Care' is utililised."
---
Serious complaints
In one case there was a complaint that a resident suffered serious falls without any review by a doctor.
It was discovered that the person had a broken back, and was left in the bedroom for a three-week period.
Another complaint related to a resident who was "lying in their own waste in bed" and who had to be admitted to hospital for three weeks due to neglect.
Another case referred to HIQA simply states that the resident had "unexplained injuries".
A resident who had previously complained of a headache was found unconscious in a bedroom. HIQA was told that staff did not engage in a professional way in relation to the incident.
There are several complaints of sexual abuse including one which alleged that a sexual assault took place and that a proper investigation was not carried out.
Another complaint states that a resident was found with blood on their body, and was only allowed one shower per week.
Abusive language was used in relation to one resident who, when spoken to by staff, sounded stressed and was crying.
One complaint stated that residents at one nursing home were not encouraged to take meals, and no assistance was given to help residents at meal times.
In this unit the complainant said relatives had to bring a resident's colostomy bag home to clean it, and staff used inappropriate language and were rough in their treatment of residents.
In another case a complaint states that a resident who had suffered a fall, required the assistance of two staff and a hoist to use the toilet.
Staff at this facility inserted a catheter, and when queried the response was vague. It was felt by the complainant that the resident was capable of using the toilet but that this was an inconvenience to the staff.
Another complaint states that staff at a nursing home were verbally abusive towards residents and there was no engagement between residents and staff during mealtimes.
A complainant states that a resident sees nobody until dinner time, in the same place there was excrement found on the floor and bed bars and the room was filthy.
Insufficient staffing features prominently, including in one complaint which states that there was a lack of staff, insufficient food served at meal times, and a lack of cleanliness and lack of care in relation to one facility.
Another complaint states that the call bell was taken away from a resident who was then left for hours in soiled clothes.
One person made a complaint to HIQA after observing a member of staff kick a patient.
In another facility a resident was not provided with fresh water and there was a lack of general care, and the resident was dehydrated.
Another complaint states that a resident was allowed to go to bed and fall asleep with filthy hands covered in faeces until the following morning. When queried the complainant was told by staff that they did not want to disturb the resident while they were sleeping.
A separate complaint refers to a resident being bullied and mistreated on a daily basis.
Complaints in relation to deaths
There are complaints in relation to the death of residents who suffered from falls.
In one case there is a complaint that a resident fell and sustained a fracture and was then hoisted up from the floor to the bed by staff and placed in a pair of pyjamas.
The resident died the following day in hospital.
Sharing of information
A further issue has emerged in relation to the sharing of information between the Office of the Ombudsman which examines complaints relating to private nursing homes, and HIQA.
Members of the public who are unable to resolve a complaint directly with a nursing home, are encouraged to contact the Office of the Ombudsman, which can examine the complaint.
A memorandum of understanding was signed in 2015 which provided for the sharing of information between the Ombudsman and HIQA to allow for the cooperation between both bodies to benefit service users.
However information released in reply to a parliamentary question shows that since the signing of the memorandum of understanding, no information has been shared between HIQA and the Office of the Ombudsman.
This is because of data protection requirements which prohibit the sharing of personally identifiable information without the express consent of the individual involved.
In many cases related to nursing homes, the individual at the centre of the complaint is not the person who has contacted HIQA to express a concern.
HIQA has described this as an anomaly and in the organisation's complaints policy which is now being reviewed.