A number of residents in Dún Laoghaire have said the heatwave has made living conditions unbearable as they have had no water or very poor water pressure since March.
Irish Water said the situation at Smyths Gardens is due to a leak on the aging water main.
Marie McDonald, 78, has had no running water in her home since March and says simple, everyday tasks are a challenge.
Ms McDonald said: "I can't shower. I fill the kettle and take it upstairs and try and wash myself and living on my own it's worse."
Her neighbour Gary Byrne, who is a full-time carer for his aunt who is blind, said it has been a battle to get the problem fixed.
Speaking on RTÉ's Morning Ireland, he said: "We got an engineer out from the council that said your leak seems to be in your yard so it's not our responsibility, it's a private matter.
"But then on the deeds it said the first fix was free so we have been trying to get this in motion but nothing has been happening."
Irish Water said it has been liaising with residents over a number of weeks and was in direct contact with residents who said they had water pressure issues at the properties.
However, it said today was the first time it was made aware that residents had no water supply.
Irish Water said a contractor was in place and construction works were scheduled to commence in August.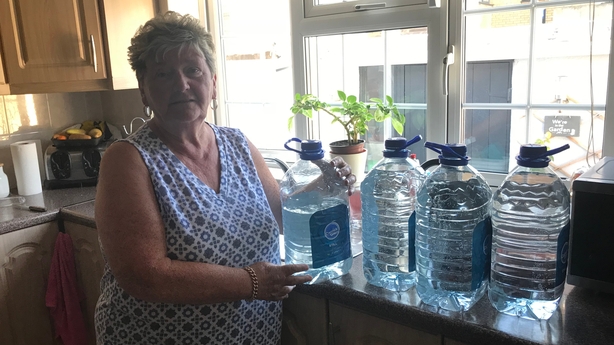 However, residents say they cannot wait that long. Margaret Massie's taps have also been running dry for a number of months.
"It's ridiculous I have to bring my washing and all up to my sister's and daughter's house.
"As you see, I go up to Aldi or Lidl and I buy the water and that will be no length there because you have to use it for cooking and that. I am worn out from it, I really am."
We need your consent to load this rte-player contentWe use rte-player to manage extra content that can set cookies on your device and collect data about your activity. Please review their details and accept them to load the content.Manage Preferences