The Minister for Children has said the findings and recommendations of today's HIQA report into how Child and Family Agency Tusla manages allegations of child sexual abuse will be implemented in full.
The investigation by HIQA found that Tusla must take urgent action to address serious shortcomings.
Speaking to reporters at Government Buildings, Katherine Zappone said the report raised serious issues of great concern, and the recommendations of the report need to be addressed as a matter of urgency.
Ms Zappone said there was a need to learn from the events highlighted in the report in a meaningful way.
She said while she welcomed what Tusla has been able to achieve, the pace of change is "too slow", and she was appointing an independent expert group to oversee the implementation of the report's recommendations.
Minister for Children Katherine Zappone says the pace of change at Tusla is 'too slow' | https://t.co/FcD1J8T57Z pic.twitter.com/xzrEUnCNkA

— RTÉ News (@rtenews) June 19, 2018
Asked if she took responsibility for dealing with an agency in which shortcomings had been highlighted which had put children at risk, she said "I take full responsibility".
She said the issues highlighted in the report show "there is a potential risk to our children".
Asked whether it was a "cop out" that no individual had been found at fault, Ms Zappone said "no".
She said Tusla has made progress in terms of its strategic vision, including the appointment of a chief social worker.
Asked whether there could ever been a repeat of such catastrophic failures such as were highlighted in relation to the case involving garda whistleblower Sergeant Maurice McCabe, Ms Zappone said she said "it would be significantly less likely as we move on the recommendations of the report". 
Meanwhile, Tusla has said it accepts the findings and recommendations of the HIQA report into how it manages allegations of child sexual abuse.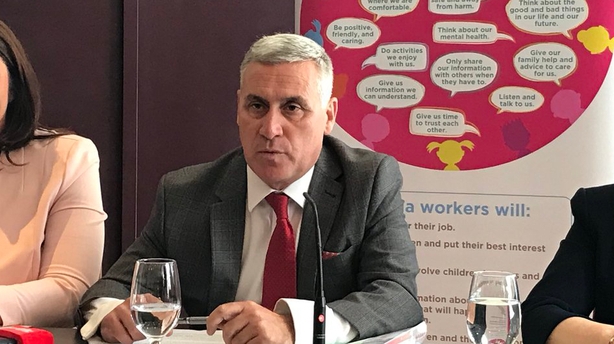 Speaking at a press conference in Dublin, Tusla CEO Fred McBride accepted that "inconsistencies in practice remain where children are not at an immediate risk", but said such inconsistencies and delays did not affect the "immediate safety of any child".
Mr McBride also apologised to Sgt McCabe.
"I'd like to reiterate our apology to Sgt McCabe and his family," he said. "We have been very open and clear about the fact that mistakes were made in this case."
Tusla is "absolutely taking HIQA's findings seriously," Mr McBride said. "Whilst we have some way to go, we are actively addressing the issues, and have been for some time."
Taoiseach Leo Varadkar told the Dáil the report catalogues failures and enormous shortcomings in Tusla.
Mr Varadkar said an independent expert group would be appointed to oversee the implementation of HIQA's recommendations.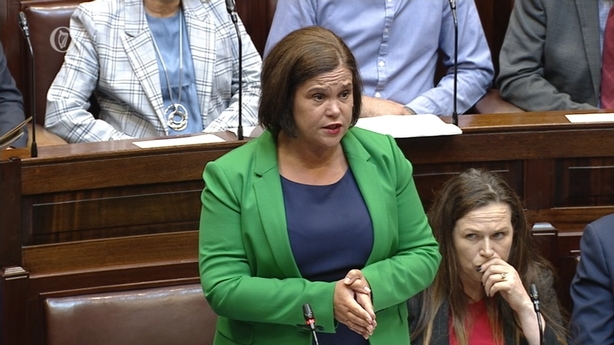 Fianna Fáil's spokesperson on Children and Youth Affairs Anne Rabbitte expressed concerned about the ability of Tusla to effectively carry out its work.
"Unsurprisingly, recruitment has been highlighted as an ongoing issue in Tusla. At the end of March in 2018, there were over 4,600 open cases awaiting the allocation of social care workers," said Ms Rabbitte. 
"The issues highlighted in today's review were identified more than 15 months ago. Aside from commissioning this report Minister Zappone has done very little to address the concerns raised.
"There has been no significant recruitment of social workers.There have been no real attempts made to streamline co-operation between Tusla and other government agencies," she said.
During Leader's Questions in the Dáil, Sinn Féin leader Mary Lou McDonald described the findings of the report as "damning".
We need your consent to load this rte-player contentWe use rte-player to manage extra content that can set cookies on your device and collect data about your activity. Please review their details and accept them to load the content.Manage Preferences
She said it highlights the alarming reality that Tusla has serious difficulties in recruiting and retaining specialist staff, especially social workers.
The unacceptable result of this catalogue of failure, is that Tusla is not adequately protecting children who are known to be at risk, she said. 
"There are children at increased risk today due to this culture of dysfunction at Tusla, this is because of this Government's failure to act and properly resource Tusla."
"The diagnosis is clear, Tusla as it stands is not fit for purpose, and we need solutions to ensure that at risk children are protected," she added.
Commitments welcomed by children's charities
The Irish Society for the Prevention of Cruelty to Children (ISPCC) has welcomed the commitments given today.
ISPCC Director of Policy Cliodhna O'Neill said: "The ISPCC will take time to review the findings of this report and its implications for Ireland's child protection systems.
"We welcome the reports today that Tusla is outlining how it has been and continues to take actions to address the systemic and other deficits identified in the report."
Meanwhile, Barnardos has expressed concern about the issues raised in the HIQA report.
Fergus Finlay, CEO, Barnardos, said: "The HIQA report highlights serious gaps and failings within our child protection services.
"However, the recommendations are welcome and do provide a clear pathway as to how services can be refined and improved - hopefully leading to a more child-centred and effective service which will benefit all children in Ireland.
"Budget 2019 must ensure additional funding is allocated to Tusla to guarantee the implementation of these recommendations."