When the opening ceremony and first game of the World Cup kicks off in Russia today, it will take place on a pitch installed by an Irish-owned company.
On standby throughout the tournament to maintain the Luzhniki Stadium pitch will be a team of 12 people from SIS Pitches, including its CEO, George Mullan from Sligo.
The company was selected to design, construct and install six of the 12 stadium pitches for Russia 2018.
The other five pitches - at the Otkritie Arena, Rostov Arena, Kaliningrad Stadium, Samara Arena and Saransk Arena - have already been formally handed over to stadium management, who will handle all of their maintenance.
The team will also maintain the three training pitches at Luzhniki which will be used by all the national teams training at the venue.
Everything you need to know about World Cup 2018
Mr Mullan said the Moscow stadium "will have the heaviest programme of games, training sessions as well as hosting the opening ceremony and the rehearsals for the opening ceremony.
"We already have had six rehearsals for the opening ceremony, 15 training sessions and seven matches on the pitch; this is all apart from the activity on the training pitches," he said.

"Maintaining a pitch under these circumstances can be challenging as the opening ceremony, which will include Robbie Williams and other performers, is taking place on the pitch just half an hour before the first game kicks off.
"Some 80,000 football fans will be in the stadium and many millions will be watching around the world. However, our team will be pitch-side to make sure that the surface is maintained to the highest standards.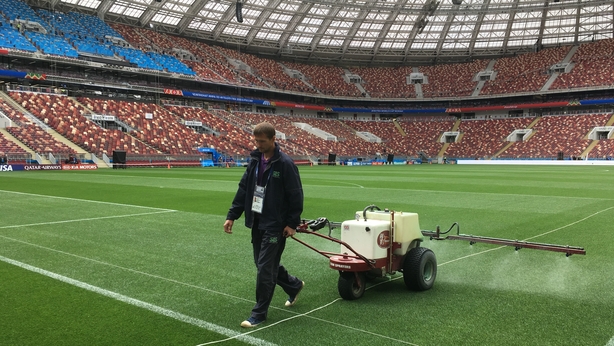 "We will have 12 people at the pitch throughout the tournament, making sure that the surface is perfect before every game. They will then repair the pitch if any damage has been caused during the game. I will be there personally at some of the games - but I won't be watching the football; I will be concentrating on the surface!"
It is the first time that a World Cup Final will be played on an artificial surface.
The Luzhniki Stadium previously held the Champions League Final between Manchester United and Chelsea in 2008.